October 8th, 2011 by
Gavok
|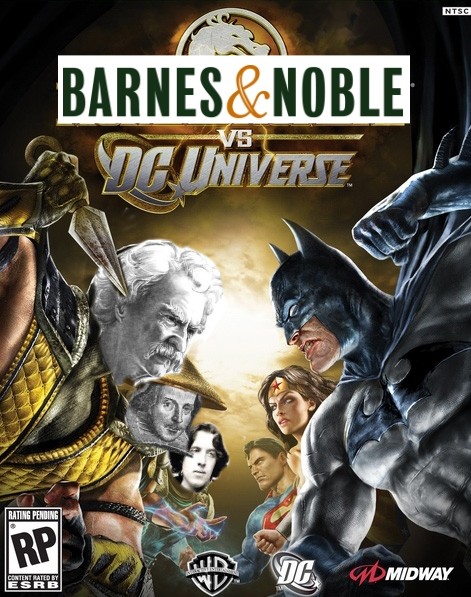 Interesting things afoot with DC Comics as of the past couple of days. With the release of the new Amazon Kindle Fire, DC announced that there would be 100 DC trades that would be digital exclusives to the new device. It's quite a list, too. All of the company's top sellers.
Barnes and Noble saw this and had a complete cow. As one of their rules in the e-book war, B&N refuses to stock physical copies of books that other devices get in digital form via exclusives. That's a pretty big deal here. That means that B&N is recalling all 100 of those DC trades. The rest of DC's library that are usually being sold in stores are still going to be there. The recalled books are still available as orders, both on BN.com and through ship-to-home orders from within the store. You just won't be able to find stuff like All-Star Superman and Y the Last Man on the shelf. I don't know if this is going to last the four months of DC and Amazon's deal or longer, but I do know that this is going to hurt.
As I've mentioned now and again, I work at a Barnes and Noble. Been there for six years. I've read some online reactions to this news and how B&N is fucking themselves over and how dumb they're being. The whole "cut off their nose to spite their face" thing came up an awful lot. As someone who has some experience in the field, I thought I'd give my two cents.
First thing's first. Do I think this is a great idea? Not really. Policy or not, it stinks of being petty. It's B&N's call and from a business perspective it isn't the worst thing they can do, but it does make them out to be jerks who are taking their ball and are going home. Their biggest mistake here is burning bridges and that could one day bite them on the ass.
In the near future, though? B&N is going to be slightly bruised. DC is going to be the one that will suffer more than anything.
The basic outrage reaction to the move is a logical one. People say that with Borders having just died, B&N's days are numbered and they're going to need all the help they'll get. Now, Borders' downfall was a lot of different factors and a big chunk of it was them zigging where B&N zagged. Especially with their take on the whole e-reader uprising. They ignored the problem until it was too late and then promoted the Kobo, which is like the RC Cola of e-readers, only flat and warm and a year or so after its expiration date. Will B&N fall in time? Maybe. I don't know. It'll be a long while more than the kneejerk predictions, that's for sure.
Anyway, the big reaction is that if B&N doesn't want DC's business, then people will simply go to Amazon or local comic shops. That is a correct assessment, but it's not as big a deal as one would think. People go to Amazon with a graphic novel in mind. People go to comic shops with a graphic novel in mind. Unless there's a movie or a school assignment, almost nobody ever goes to a B&N for a specific trade. They browse and pick up what they think is interesting. For instance, Green Lantern: Agent Orange is on the list. It sells pretty well, but I can't recall a single person asking for it. It finds them, whether they think it'll be a cool read or they know of it and are just noticing that it's been out.
Truth be told, DC's fucking terrible with their graphic novels. With an emphasis on single issues, they wait an awful long time before releasing the hardcover of a trade. Then even farther down the line, they'll get to the paperback. It's usually over a year between issue and paperback, especially if it's a Batman comic. Compare this to Marvel, who will sometimes have their books out while the final issue of the trade's story is still sitting in the newsstand. Unfortunately, the remnants of DC's catalogue on the shelf will be the stories that nobody's been reading, hence their need for a relaunch. The avid readers will mostly skip over the new releases for Titans and Birds of Prey like they've been doing for the past several years.
Not to say that nobody is going to pick up the remaining books that aren't on the Kindle Fire list. After all, some shoppers tend to get whatever, as long as it's a character they know. The Morrison Batman stuff won't be a factor anymore, but the Daniels and Hine stuff will get picked up in its stead because… hey, it's Batman! More than anything, the Marvel catalogue is going to completely overshadow DC's pickings and that leads to the biggest punch to DC: the holidays. Even if this situation only lasts four months, it's four critical months.
It's hard to believe if you've never been involved with retail, but during December, people will basically buy anything, no questions asked. Put whatever on the shelf and chances are someone will get it. It's pretty crazy. Parents will rummage through the graphic novels section and pick up a ton of stuff as long as they know their kids like whichever character. That means that DC's losing a whole lot of sales on Batman, Superman and Green Lantern books while Spider-Man, X-Men and Captain America will clean up. They're going to have far more on the supply scale to meet with the huge demand. Especially the last-minute demand where buyers become even more desperate. Considering B&N makes something like 50% of their revenue during the fourth quarter, this is some major damage.
The biggest loss to B&N will come from the unavailability of Y the Last Man, Sandman and Fables, which continue to sell like hotcakes. It's an easy assumption that Watchmen and V for Vendetta would be major sellers, but they suffer from the book-to-flick rule. A book may sell like the dickens, such as Da Vinci Code or the Help. It'll sell strong for what seems like forever. Then the movie will be announced and from the first trailer to the movie's release, the book will sell even more. Once the movie is a week or two old, it's done. Nobody wants the book anymore. People will buy it here and there, but never on any impressive level. Once Watchmen dwindled in theaters, I stopped seeing much movement from the book outside of the occasional need for a college course.
So what will still sell from DC's library? Not much in terms of the superhero stuff. Justice was just rereleased and that might get a good boost and even Superman: Grounded has had some success due to its placement. The real continuous sellers that aren't on the Kindle Fire list are going to be Preacher and Transmetropolitan. Yeah, those two are still going pretty strong.
In the end, B&N is only affected by those directly outraged by their behavior. This isn't going to be a national headline story that the average Joe will remember. If someone goes to a store looking for Dark Knight Returns and it's not there, any employee worth a damn will offer to have a copy shipped to his home. It's a more annoying version of being out of stock, but it's an option. DC, in a time where expanding their readership is so important, is in a situation where people won't even be able to browse their strongest titles.
B&N may lose a couple bucks here and there and may look like jerks, but are they really shooting themselves in the foot? From my experiences, not really. DC Comics' deal with Amazon put the comic company in a trap and if that gun is aimed anywhere, it's DC's foot. And the bullet is made of kryptonite.
Because they make Superman comics, you see.
I really need to work on my final lines.
Similar Posts: