July 10th, 2011 by
david brothers
| Tags:
frank miller
,
jim lee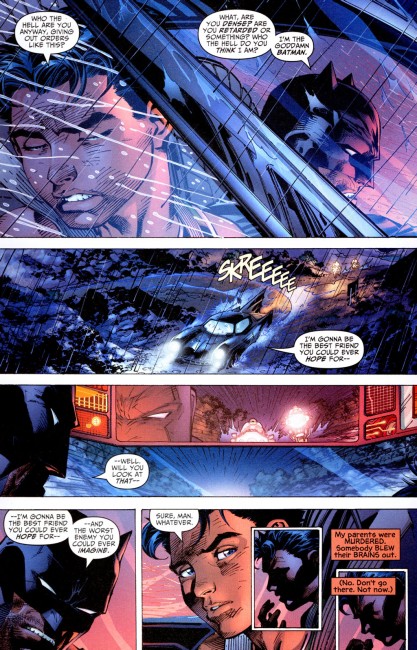 There's this thing people do when they get bad news or see something horrible. It's happened to you, and it's definitely happened to me. Your unconscious mind registers it, but your conscious mind recognizes the danger inherent in what your unconscious mind is processing, so your brain switches gears. It tamps down that thought and pushes your brain in another direction. "Don't pay too much attention to this. It will break you. Look away."
This bit from Frank Miller and Jim Lee's All-Star Batman & Robin the Boy Wonder rings particularly true because of that fact. When you get those late night phone calls that make you sit straight up in bed and your mind takes a hard left away from the trauma–that's what Dick Grayson is feeling right there. "No. Don't go there. Not now." He's cognizant of the murder of his parents, he knows it happened, but he can't let himself feel it.
Those thoughts, though, are hard to avoid for long. They creep around the outside of your mind, looking for a way in. It's like the old adage about opportunity knocking, or the Bible verse that goes, "Behold, I stand at the door and knock." Ideas want in, memes must be acknowledged, and this type of idea doesn't just knock. It wants to pick the lock and demand your attention. It's slippery, hard to hold at bay, and at some point, it slips inside you and takes control, whether you want it to or not. It's the ultimate thought, the only thought, and you can't escape it.
And so it goes with Robin. He starts questioning everything that's happening, the murder of his parents pushes its way to the forefront of his mind, and he tries to push it back again. But, no–the dam breaks. The tears begin to flood and every single thought in Dick Grayson's brain turns to one: "Their brains splashed all over my feet!" His life is upside down, nothing makes sense, and he's breaking.
Batman's slap, and his actions up to this point, make sense in context. He's trying to recruit Dick Grayson for his war, and if Grayson makes it all the way through the five stages of grief, he'll forgive his enemies, rather than having the obsessive mind state that's required to be a Batman. Forgiveness leads to peace, and the Batfamily can never, ever know peace. That's not how they're wired.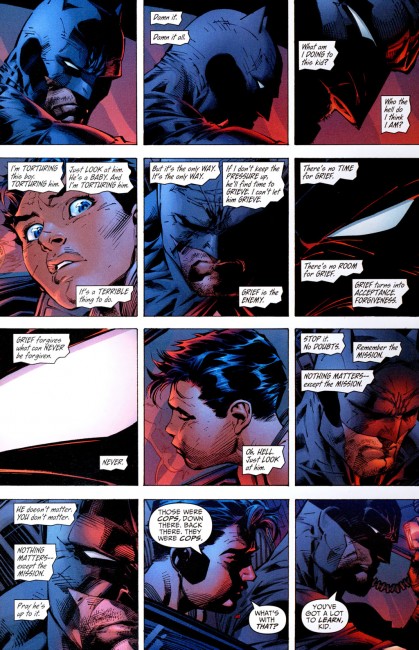 The fast-paced, high-impact chase is Batman's way of fast-forwarding Grayson's recovery from his parents' murder. He needs Grayson distracted until the pain fades away, leaving just the anger. Batman is sure of his choice, though he recognizes the pain he's causing. But, he believes that the mission–whether that mission is protecting Gotham or avenging his parents or defending the innocent is still unclear–takes priority over any single individual's pain. Gotham needs Batman, and Batman needs Grayson because Batman needs an army to get the job done. So: distract, distract, distract until the little boy is in the shape you need him to be in, no matter how much of a monster it makes you.
Later, Batman will realize he went about this in the wrongest possible way. This is how Bruce Wayne became Batman, but it doesn't have to be how everyone joins his army. For now, though, it works. He explains the deal to Grayson in a rare moment of softness, and that does the trick.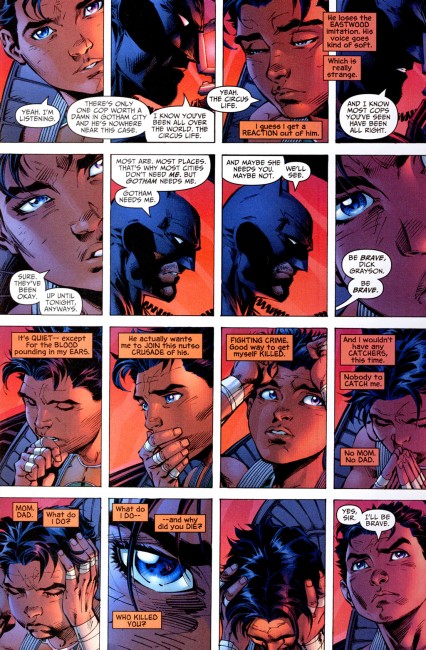 Grayson's thoughts return to his parents. He needs guidance and he needs his parents, but that's all gone now. His safety net is gone, he's been thrust into a world that should be restricted to adults, and his only guide is a man who is so sure of his convictions that he'd kidnap a child. Despite the situation, Grayson needs to know one thing: who killed his parents?
He collapses again, just for a moment, and then makes a choice. "Yes, sir. I'll be brave." He's going to see this through.
The choice is the difference between Batman and Robin. Batman was thrust into this world, for whatever reason. Robin could have had a normal life. Batman was meant to be.
That choice is the birth of Robin. He chooses justice over grief. It's the birth, but not the maturation. That comes later, when Batman's hard heart goes soft and he realizes what he's done to a twelve-year old child. All-Star Batman & Robin the Boy Wonder is explicitly about the humanization of Bruce Wayne due to the influence of Dick Grayson.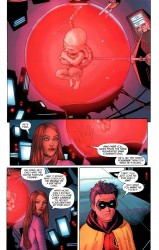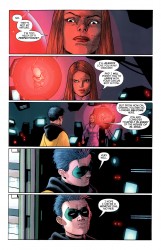 Grant Morrison and Andy Clarke must have liked this idea of a choice being central to Robin. In Batman & Robin, Talia rejects her son. He chooses justice over terrorism, his father over his mother–and make no mistake, the idea of "Batman" is inextricably and exclusively tied to Bruce Wayne, no matter who wears the cowl–and he too pauses, thinks, and accepts his fate. This is the moment Damian becomes Robin, more so than anywhere else in that series.
Similar Posts: