April 6th, 2011 by
david brothers
| Tags:
cipher
,
flex mentallo
,
joe casey
,
michael kupperman
,
sean witzke
i say, one, two, three, four, five, really wanted you to be my wife
created:
I read a Wiki article the other day about
Impostor syndrome
. It's an interesting read, and I'm pretty sure I waffle between that and a sense of absolutely delusional entitlement regularly.
–Ten panels you should've seen at Wondercon
–A really obvious April Fools' Day post
---
and i say six, seven, eight, nine, ten, really wanted you to be my friend
consumed:
I went to Wondercon and got sick. I was wrecked yesterday and am only slightly better today, but I should be good to go tomorrow. I hardly ever get sick, so each time is like the end of the world. (What a crybaby.)
–Jay Potts got his book funded! I'm really happy that this happened. Black comics, baby! Congrats to Jay. Looking forward to seeing the book.
–How Slavery Really Ended In America is an interesting read. I'm only a couple pages in, so maybe it goes south at some point, but thus far? Super interesting.
–Zom of the Mindless Ones takes a swing at Frank Miller, Lynn Varley, and Klaus Janson's Joker, with an eye toward David Bowie. I liked this read. It's a pretty interesting examination.
-I got the new Fantagraphics catalog in the mail, and guess what's in it! Michael Kupperman's Mark Twain's Autobiography 1910-2010! Kupperman is one of the funniest dudes in comics (it's him, Kyle Baker, Sergio Aragones, and ???), and his Mark Twain post was super funny. Here's an excerpt from Tales Designed to Thrizzle
6, one of the funniest comics ever: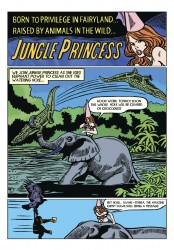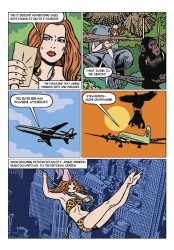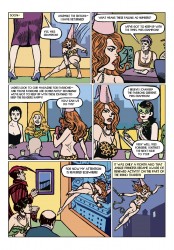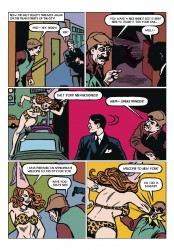 So, yes: I'm buying this one as soon as it drops.
–The Daily Crosshatch had a good interview with Stan Sakai of Usagi Yojimbo fame.
-Coming via Cheryl Lynn is this bit of dopeness:
SOUL MAN™ Teaser Guillaume Ivernel (Blacklight Movies) from Blacklight Movies on Vimeo.
-Sean Witzke is back to writing about comics, and wow, he's making my days. On Dan Slott, Marcos Martin, and violence in cape comics:
You want to do the story where Spider-Man saves everyone, makes sure that no one dies, gets some new armor with some cool magnetic webbing, outsmarts the bad guy and rubs it in J Jonah Jameson's face? Do it without talking about it. Calling all this attention to death, it makes the entire endeavor feel awkward, it consistently points out that this is a problem with reading a superhero comic with real world consequences. If you want to do something old school and tell classic Spidey stories, WHY NOT JUST DO IT? This is caught in the middle and satisfies neither side.
On Rick Remender, Jerome Opeña, and action in comics:
This isn't nostalgia comics, it's a job for these guys – almost in the mode of the shittiest Batman comics that come out – it has Wolverine and Deadpool in it, and it comes out in 6 weeks, do whatever you want. And Remender and Opena, they want to do a comic with some great fight scenes, and for me that's always been something undervalued as a reason to make a comic. Especially in a place where comics are now, where real action is now much more of an idea you play to (which I think happens in all kinds of comics, from the Fort Thunder indie stuff to huge Marvel/DC crossovers, action is a pose more than anything). Giving a shit about things like fights and chases always makes me feel a bit silly, but it's what I care about and I enjoy seeing it done right and hate when it's paid lip service to. Uncanny X-Force is a comic that understands what it is, and then goes about being the best dumb fight comic it can be.
So I bought it, I thought the idea of Tintin traveling through Interzone sounded far enough away from coming of age and the 70s and Baby's First Body Horror Reader. I bought it, because I am an idiot who actually listens to people, and the preview art looked great. I paid $20 for this. Those Tintin books that have 3 reprints in one are only $18.
-Some scrub on Twitter (retweeted here) called Sean's work "Not the type of criticism the world needs." Hahaha. Get real, homey.
-I can't think of anyone who writes about comics like Sean does. The way he blends cinema theory (is that a word? "the way movies work") and comics theory is endlessly fascinating to me, because I like movies, but I don't know them. Sean can spot directors swiping other directors, which is basically magic, as far as I'm concerned. That's a voice that I need to be reading, and that's just the most obvious touchstone for his work.
-It's cool to not like people, but to pitch it as "Oh, this guy is hurting the form," like there's some objective way to grade criticism? You need a dummy smack for that one. If somebody sucks, say they suck. Don't get all bougie about it and try to justify your dislike.
-I always find discussions of what criticism is or should be to be pointless, but hey, I'm home sick from work and doped up, so let's get it in.
-People are gonna believe what they want to believe about your work, according to their own interests. I've had people tell me that I'm too negative online. That's funny, because I posted about 25 times in February for Black History Month, and one post about a dumb Gorilla Grodd comic came close to getting more comments than everything I wrote in February combined.
-I'm negative? C'mon, b. I spent the latter third of last year depressed out of my head and still managed to give sloppy kisses to dozens of comics I loved. Check the rhime if you don't believe me. Do your homework.
-The internet's backwards. People pay attention when you savage (or lightly insult or even ignore, at this point) something, because 1) controversy (intended or otherwise) brings in hits and 2) everybody likes a chance to tell you you're wrong. Post about something you like more than most people you've met? Deafening silence. It should be the other way around.
-That's the secret of why every site does top ten lists. They invite hits and angry comments.
-I could post tomorrow on that dumb looking American Panther thing, with some very well thought out and reasonable points, but I'd rather do what I'm doing right after I finish this point: write about Stan Sakai's Usagi Yojimbo and figure out some way to explain Moebius to a general audience.
-The more I think about it, the dumber I think "not the type of criticism the world needs" is an incredibly stupid thing to say. It's just–there's this layer of elitism in there, an implicit statement that criticism needs to be a certain way to be valid, that valid criticism exists, and all of this other garbage that I hate.
-It reeks of stuffy academia, where knowledge is only kept by those who have been properly trained or let into a special criticism club. It's rockism for comics, and I hate it. Maybe that's my lack of education and public school upbringing, I dunno.
-But I do know that me and mine could eat people who think like that for lunch.
-There's no right way to do criticism. It's anything goes martial arts. You can savage books all day long, talk around them, new games journalism them, dissect them, or recap them. If it's good, it's good. No one "needs" any type of criticism, either.
-We're all nobodies, baby. "I just wanted to talk about the comics, see? All those shitty, amazing comics…"
-It's a good time to be a comics fan. Heroes for Hire went a little soft in the art department this week, but, man, was that a good issue or what? Misty Knight uber alles, dang.
-I need to figure out what I should write about Joe Casey and Mike Huddleston's Butcher Baker. I'm feeling it, though.
---
and i say eleven, twelve, thirteen, fourteen, fifteen, can't think of nothing that rhyme with fifteen
David:
Heroes for Hire
5
Esther:
Esther's comics purchases for today have been called on account of bad plots and crossovers
Gavin:
Axe Cop Bad Guy Earth 2, Secret Six 32, Irredeemable 24, Deadpool Family 1, Herc 1, Heroes For Hire 5, Marvel Zombies Supreme 3, Ozma Of Oz 5, Ultimate Comics Captain America 4,
(Maybe)
Fear Itself
1
Similar Posts: