April 5th, 2010 by
david brothers
| Tags:
blogosphere
,
comics alliance
,
ifanboy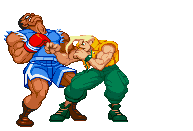 "NO ESCAPE!"
We're taking a break from the Fourcast! this week, due to Wondercon hitting on our recording weekend and being unable to record the podcast panel (I've never seen so many wires in my life). We'll be back next week with something interesting for y'all, though, please believe.
In the meantime, some minor self-promotion! You can find me posting a few times a month at Comics Alliance, and I'm part of the new team at iFanboy, too. I'm going to be posting once a week for now, doing a series of linkblogging posts called Pay Attention! I'll run down news you might have missed, interesting sites, blah blah blah.
Now I can finally stop pitching rocks in Hamsterdam! Hurrah!
Podcast will be back next week!
Similar Posts: