January 25th, 2011 by
david brothers
| Tags:
fantastic four
,
jonathan hickman
,
steve epting
Spoilers after the jump, though I figure that you already know what goes down.

Station identification: Fantastic Four 587 is written by Jonathan Hickman, drawn by Steve Epting, inked by Rick Magyar, Mike Perkins, and Steve Epting, colored by Paul Mounts, and lettered by Visual Calligraphy's Rus Wooton. Fantastic Four, of course, is a Stan & Jack Joint. It's good–buy it today, buy it tomorrow, or wait six months and buy it digitally because Marvel doesn't know jack about digital comics.
First, here's the scene where Johnny Storm dies: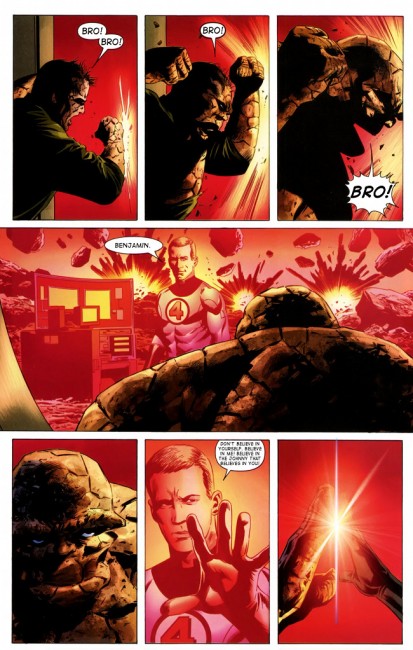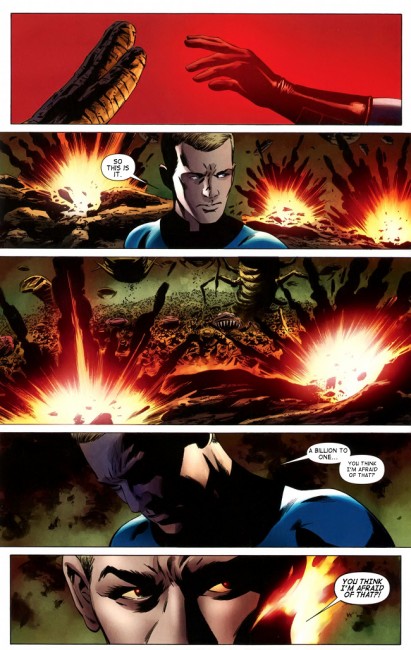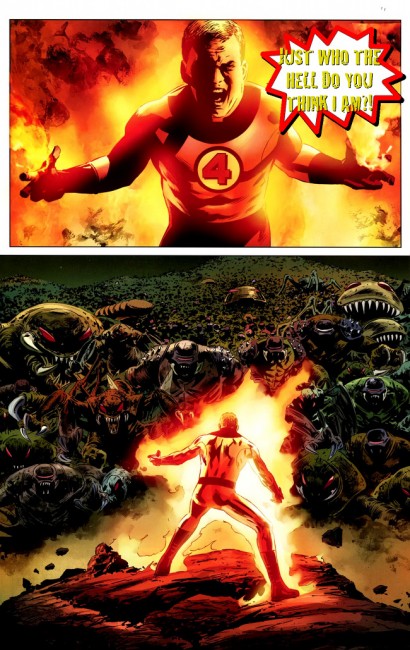 GO TEAM DAI-FOUREN!
Second, read Laura Hudson interviewing Jonathan Hickman and then check out David Uzumeri's analysis of why Johnny had to be the one.
Third, what did you think? I don't have time for lengthy thoughts right now, but I thought it was a well done issue, even if the death looks painfully easy to turn around. Hickman did good, and Epting was okay. Something about that guy's faces don't work for me all the way, though. More later–I'll hop into the comments when I get off work.
edit: This is a photoshop, y'all, dang. My lettering is awful! If you want to get the joke, watch some Gurren Lagann. And understand that this is the blog that will pierce the Heavens.
Similar Posts: