September 23rd, 2010 by
Esther Inglis-Arkell
| Tags:
continuity
,
DC comics
,
hal jordan
,
john stewart
So once upon a time, not so very long ago, there was a book called Green Lantern: Secret Origin
, which retold Hal Jordan's origin story.  Since Hal Jordan's origin story is not long or complicated (test pilot.  got ring from alien.  might as well say 'a wizard did it'.) and is probably the best known of any Green Lantern origin, it recounted this story for reasons known only to itself, but it was a pleasant enough book, with good art and clear story-telling.
Towards the end of the first issue, it threw in the following scene: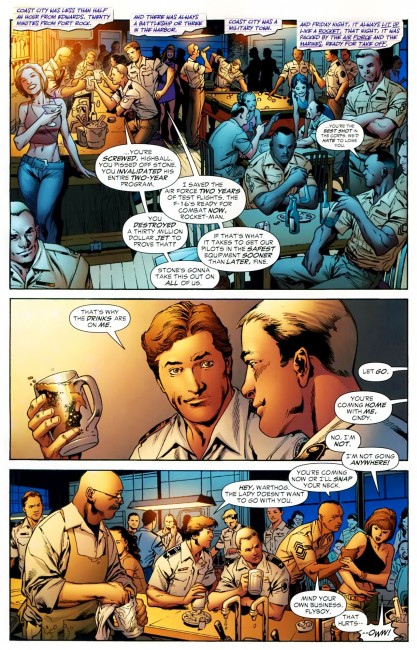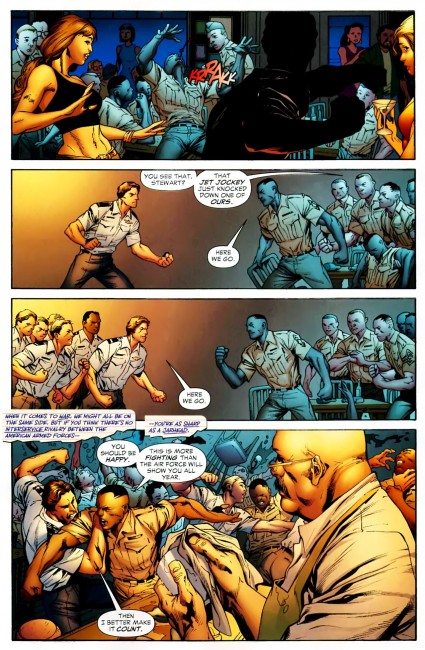 That is a young Hal Jordan getting into a bar fight with a young John Stewart.  They don't know each other's names, and they won't remember each other's faces, but they fight and then Hal goes out of the bar and learns something that makes him quit the air force and go work for Carol Ferris, who in this book he also met as a child, and then continues his well-known secret origin story.
I think that this kind of thing, the pre-team-up, when characters who supposedly only know each other as heroes turned out to have met briefly before, happens in this kind of origin story.  There are only so many times that people can watch little Bruce Wayne see his parents get shot or Bruce Banner get shot full of radiation.  There needs to be something different in an origin story, and yet at the same time, it can't be too different.  These things are the grown-up equivalent of bedtime stories.  They're supposed to be comforting.  These pre-team-ups add a little something extra, but they don't bend continuity out of shape.
The real problem is making sure they're done well.
This one, I think, is.  It establishes a bit about Hal Jordan's MO, brashly defending the innocent (and his own ego) while doing an unjustifiable amount of property damage, without being a crucial scene for his continuity.  Batman Begins, on the other hand, has a James Gordon – with a darker mustache but otherwise looking exactly as old as he did later in the movie – draping his jacket around an eight-year-old Bruce Wayne after his parents got killed.  That's a coincidence that's just a little too much for me.  The right tone for these scenes, I think, is fun.  They shouldn't tip over into something  portentious or precious.  Then again, I think the right tone for every book is 'fun', so I could be biased there.
What do you think of pre-team-ups?  Good or bad?
Similar Posts: