July 21st, 2010 by
david brothers
| Tags:
bryan lee o'malley
,
cipher
,
oni press
,
scott pilgrim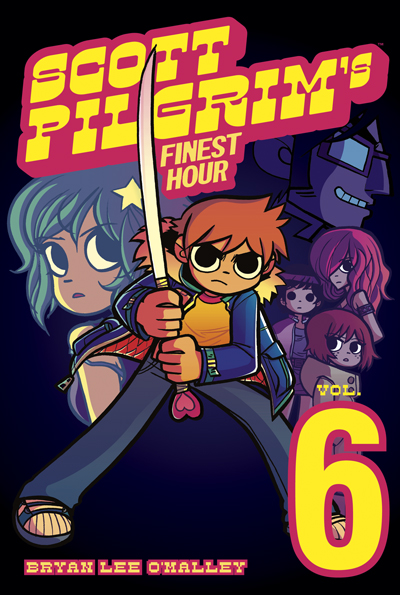 Scott Pilgrim's Finest Hour
, Bryan Lee O'Malley. Here's a preview for the first volume
.
Then I realized the plan–I'm trapped in a deadly video game, with just one man! So, I don't only watch my back, I watch my front!

maximillion
gza
The big dog is finally here. I haven't read the fifth volume yet, but I picked up 5 and 6 to read on the plane to San Diego for Comic-con. Why not, right? I mostly enjoyed the first four, might as well go back to them, and what better time than now? We've got the last volume, the video game (which is pretty fun in an old school beat-em-up sort of way), and the movie. It all looks pretty good, and I'm honestly pretty happy for Bryan Lee O'Malley. Like, he's made it, hasn't he? Super popular series, a comic movie that looks good (with Chris Evans in his, what, fifteen comic book role?), and the entire internet is talking about him today. That's worthy of respect.
Whatever happened to Sharknife
? I feel like there was a time when Coreyyy Lewis and Bryan Lee O'Malley just ran comics and then Lewis faded in the public eye. I know he has a new book coming out of Image I should check out, Seedless
, but Sharknife was like lightning out of heaven to me.
Anyway, like I said, I'm in San Diego for the week doing what I do best. Updates will continue as usual, of course, but I won't be able to pick up my comics until… well probably next week sometime. Ouch. I've got Scott Pilgrims for the plane, Shade the Changing Man: Edge of Vision
, and my holy grail comic for the week, the one stands over and above all others, Vagabond
8. As far as comics go… this week is pretty dope.
---
David vs The World: Amazing Spider-Man 638, Atlas 3, Hellblazer 269, Thunderbolts 146
Esther Gets It Together: Tiny Titans 30, Superman/Batman 74. Maybe: Supergirl 54, Power Girl 14
Gavin's Finest Hour: Azrael 10, Welcome To Tranquility One Foot In The Grave 1, Age Of Heroes 3, Atlas 3, Avengers 3, Dark Wolverine 88, Deadpool Merc With A Mouth 13, Deadpool 25, Heroic Age Prince Of Power 3, Lady Deadpool 1, Marvel Zombies 5 5, Marvelous Land Of Oz 8, New Avengers 2, Thunderbolts 146, Ultimate Comics Avengers 2 5, Darkstalkers The Night Warriors 3, Darkwing Duck The Duck Knight Returns 2, Kevin Smith's Green Hornet 6
Mary Choi gave a killer interview about Lady Deadpool on Comics Alliance. My man Jamaal is writing over at FBB again, too. Go read that so we can collectively make sure he keeps writing.
What're you reading this week? Looking forward to anything out of San Diego?
Similar Posts: