July 8th, 2010 by
david brothers
| Tags:
amazing spider-man
,
casanova
,
cipher
,
one piece
,
peter milligan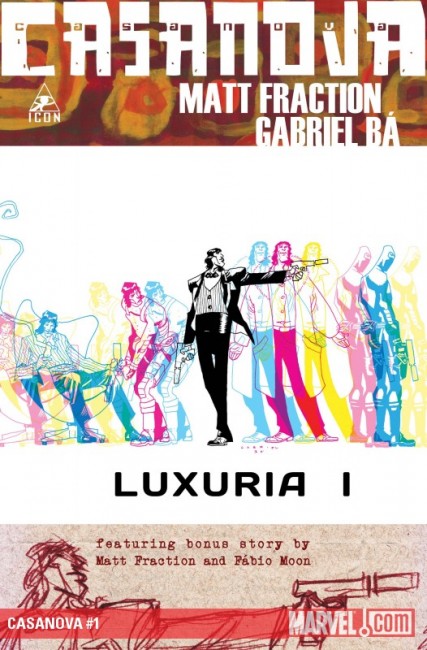 Casanova 01. words by Matt Fraction, art by Gabriel Ba and Fabio Moon, colors by Cris Peters, cover by Gabriel Ba. Preview.
I'm living in that 21st century, doing something mean to it–Do it better than anybody you've ever seen do it

WhereAreYouYeezy
kanye west
I used to really love Casanova. It wasn't my introduction to Matt Fraction (I think that was Last of the Independents?), but it was the first book of his that I really genuinely liked. Something about it–the superspy stuff, dimension hopping, interesting storytelling–clicked with me and I ended up buying every issue, plus the hardcover of the first series. This post is full of hyperbole and mistakes I wouldn't make today, but it shows you how high I was on this comic at the time.
This year sees the return of Casanova, but maybe return should be in "douchebag quotes." It's being re-serialized from the very beginning, recolored and re-lettered, and the entire series is going to get the deluxe treatment out of Marvel. On the one hand-great! I loved reading these. On the other hand–it's not 2007 any more. I buy comics differently. If I leap into this, which I have read and liked and appears to be improved, I'm looking at possibly quadruple dipping on this series. I bought the originals, bought the trade, and bought the originals for the second series. I could buy the new issues, but what I really want are the trades of the stuff I've already read (with the new colors and etc).
There's a dilemma for you. Support in singles after having already supported in singles or be selfish and buy the trades several months down the line?
(I'm buying the trades because this really isn't a dilemma at all, but if you haven't read Casanova, give it a look.)
What's 4l! buying?!
David: Amazing Spider-Man 636, King City 10
Esther: Batman and Robin 13, Secret Six 23, Batman Confidential 46, Red Robin 14
Gavin: Batman & Robin 13, Secret Six 23, Avengers: Children's Crusade 1, Avengers: The Origin 4, Hawkeye & Mockingbird 2, Hit-Monkey 1, Steve Rogers: Super-Soldier 1, Irredeemable 15
Book-wise, I just got Shade the Changing Man: The American Scream
, Human Target: Chance Meetings
, Hellblazer: Hooked
, Batwoman: Elegy
, The Life and Times of Martha Washington in the Twenty-First Century
, and One Piece 54
. I didn't own Human Target: Final Cut, so I went ahead and grabbed that trade. I haven't read Shade before, or at least not to my memory, so I'm starting in on that. And Hellblazer… Hellblazer is just good. Let Tucker convince you. He's right. So yeah, it's a heavy Milligan week for me, but I can't complain. And I get King City and One Piece and a follow-up to one of the top three greatest Spider-Man stories of all time? Comics should always be this good.
(If you're not reading Amazing Spider-Man: Grim Hunt, you're making a mistake. The last page this week is on bomb status.)
Tell me what you're buying and how you liked it.
Similar Posts: