June 16th, 2010 by
david brothers
| Tags:
amanda conner
,
black cat
,
cipher
,
javier pulido
,
jen van meter
,
spider-man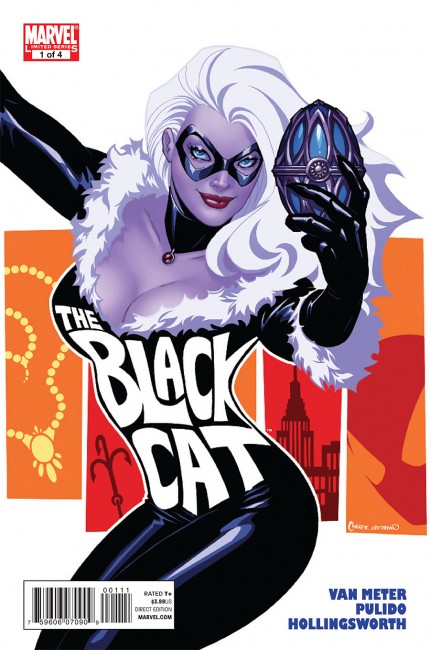 amazing spider-man presents black cat #1: words by jen van meter, art by javier pulido, colors by matt hollingsworth, letters by joe caramanga, cover by amanda conner, and cover colors by christina strain.
North beach leathers, matching Gucci sweater… Gucci sneaks on to keep my outfit together, whatever, hundred for the diamond chain. Can't you tell that I came from the dope game?

sdot
Jay-Z
You know who I love? Felicia Hardy, the Black Cat. Up until her reintroduction in Amazing Spider-Man last year, courtesy of Joe Kelly and Mike McKone, she'd hadn't had any substantive appearances in a Spider-book in a good long while. She's been one of my favorite characters since I was a kid, but not for any particular story. She was in my first comic, ASM 316, but all she did there was get dissed by Venom. Not exactly a selling point. But no, I like her because she's got a great visual, with the white hair, black costume, white gloves and shoes, and tufts of fur. I like her like I like Domino, I think. Her bad luck powers are neat and allow for some fun action, but the real key is that she's a thief. Heist stories are some of the best stories, and hopefully Van Meter's story in Black Cat is going to be a good one. I'm feeling optimistic. The team is pretty fantastic all around. Javier Pulido is an astonishingly good artist, Matt Hollingsworth a great colorist, and how crazy is that Amanda Conner cover? Check the preview here. Four bucks is less than optimal, but I'm curious. We'll see how I feel at the shop.
Looking at the other stuff on my list… this is a surprisingly large week for me. Amazon-wise, Naoki Urasawa's 20th Century Boys, Vol. 9
arrived yesterday, Ultimate Spider-Man, Vol. 11
is due in today. 20th Century Boys is kicking up now that Urasawa has gotten around to answering questions, but the last volume definitely had two scenes that featured someone going "Oh no! It's YOU!" without actually showing us who it is. That was massively frustrating, but hopefully we'll get to see who it is in this volume? Ult Spidey I preordered when it was cheap, and it completes the last run of Ultimate Spider-Man. After this… I think I'm out. The new stuff isn't clicking like it should. It has its moments, but not so many that I want to keep buying it monthly. I might check out the first couple trades a few months down the line, see if my opinion changed.
Floppy-wise, I'm looking at Amazing Spider-Man 633 & 634, Atlas 2, Hellblazer 268, Heralds 3, and Unknown Soldier 21. That's the end of "Shed," the beginning of "Grim Hunt," a Jeff Parker/Gabriel Hardman joint, a Shade the Changing Man guest spot, more from the Kathryn Immonen/Tonci Zonjic superstar team, and more from the sadly cancelled book about a lone soldier battling himself and others in Uganda. This is the best week I've seen in a good while. I'm juggling a few things, but I figure I'll have a post on Unknown Soldier up soon. Whether it'll be about this week's issue (which is about the life and times of an AK-47) or the series as a whole, I'm not sure.
Other notables: Brightest Day 4 is the first appearance of the new Aqualad, Seven Soldiers of Victory, Book 1
is the first hardcover collection of the fantastic Grant Morrison-led megaseries, and friend of 4l! Ian Brill's Darkwing Duck launches.
Oh yeah, I did a few movie reviews over at Tucker Stone's spot. I watched four Akira Kurosawa films at New People here in San Francisco and you guys get to reap the whirlwind.
What're you buying? What am I missing? What did you like? Check out this week's books here. Anybody else have characters where they like the idea more than the actual execution on the page? I can't think of a single great story with Domino, but I like her nonetheless.
Similar Posts: