July 30th, 2010 by
david brothers
| Tags:
4 elements
,
4321
,
flash
,
geoff johns
,
scott kolins
,
zoom
The Flash: Blitz
. Words by Geoff Johns, pencils by Scot Kolins, inks by Doug Hazlewood, letters by Ken Lopez, colors by James Sinclair, further art by Phil Winslade and Alberto Dose.
I didn't like Flash as a kid. It's probably more accurate to say that I barely knew he existed. The TV show was here and then gone and he wasn't in any of the few DC books I picked up. I thought he was okay in the cartoon, but I didn't really get him until I picked up a trade of the Johns/Kolins run on Flash. Flash: Blitz is the end of their run, and they go out on a high note. Here's four reasons why this story that made Flash finally click for me works well.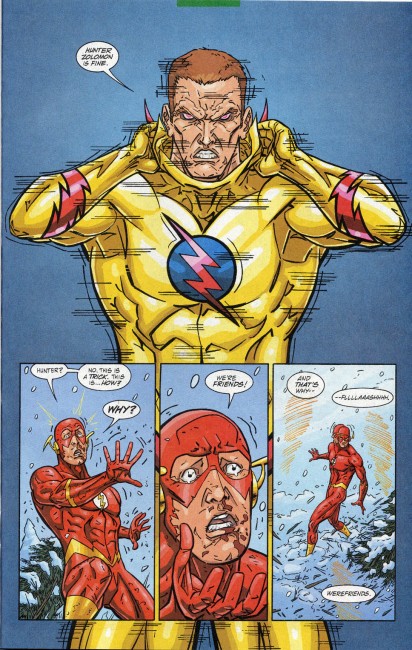 The threat in Flash: Blitz is deeply personal. The closest Batman comes to a relationship like this would be his relationship with Harvey Dent. In Blitz, Hunter Zolomon is a good friend of Wally West. After being crippled by Gorilla Grodd, Hunter begs Wally to use the Cosmic Treadmill to go back and fix his life. Wally refuses, and attempts to explain that you can't just play with time like that. Hunter takes his explanation poorly, and decides that Wally simply doesn't understand how tragedy can change a man's life.
After circumstances have gifted Hunter with powers that allow him to move extremely fast, he takes the name Zoom and decides to teach Wally tragedy, and therefore turn him into a better hero. A hero that understands tragedy is a hero that understands stakes, and a hero that understands stakes is willing to do whatever is necessary to protect his people. Zoom forces Wally's wife to miscarry, ending the life of their twins. When that doesn't make Wally break Zoom's neck, he decides to up the ante and goes directly after Linda.
Zoom is Wally's Green Goblin. They have a deeply personal connection, and their relationship isn't as simple as hero and villain. They are former friends, and Zoom believes that what he's doing will cause Wally to grow as a hero. He's clearly a villain, but his motivations aren't of the world domination variety. He's focused on the Flash, and more specifically, on Wally West.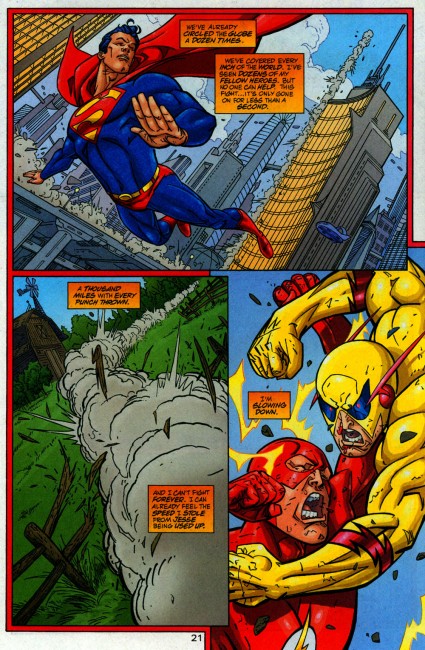 Zoom isn't just a generic villain. He's specifically engineered so that only Wally West can stop him. Superman can beat the Joker. Batman can beat Lex Luthor. I guess Cheetah is Wonder Woman's top villain? Anyone can beat her. Zoom? No one can beat Zoom but the Flash. Not a Flash, mind you–the Flash. Wally West. And even then, Wally needs help from his friends to even be able to compete.
There's always a danger of making your villains too dependent on your heroes when creating new stories. Joker's dependence somehow turned into a story point, but for most, it just looks kind of pathetic. For some reason, maybe due to the way their relationship was set up, Zoom works because of his dependence. He makes his entire reason for being turning the Flash into a better hero.
If Superman could just pop along and throw him into the sun, he wouldn't be anywhere near as effective. Shared superhero universes tend to introduce cracks into stories. "Why didn't Batman just call Superman to use his X-Ray Vision to find the Joker?" is a very good question. In this case, though, Zoom is specific to Flash's abilities, and those abilities take both of them away from anything but speedster-based help.
So the stakes become Wally's, and Wally's alone. His buds in the Justice League can't help. He can't wait around looking for a solution. He has to handle it, and he has to handle it himself.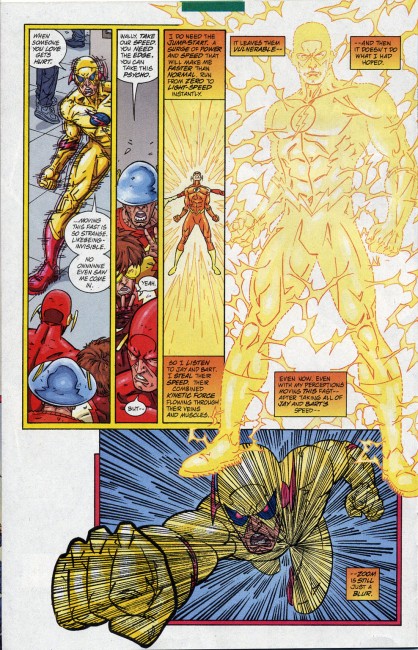 Well, not entirely alone. Blitz also sold me on the idea of the Flash Family. There are a lot of Flashes, or Flash-like characters. Jay, Barry, Wally, Bart, Jesse, John Fox, Max Mercury, and maybe one or two others. Their legacy spans some seventy years at this point. They all have the same power, more or less, with only the magnitude of their abilities separating them.
They work as a family, too. Jay is the wise old grandfather. Barry is the first success story. Wally is following in Barry's steps. Bart is the rebellious teen. Jesse is the black sheep. John Fox and Max Mercury are the weird uncles from out of town who are probably crazy from the war. They have their own specialties, for better or for worse, and when it comes time for the big showdown, they all have a role to play, whether that is donating their powers, giving advice, or simply figuring out what to do.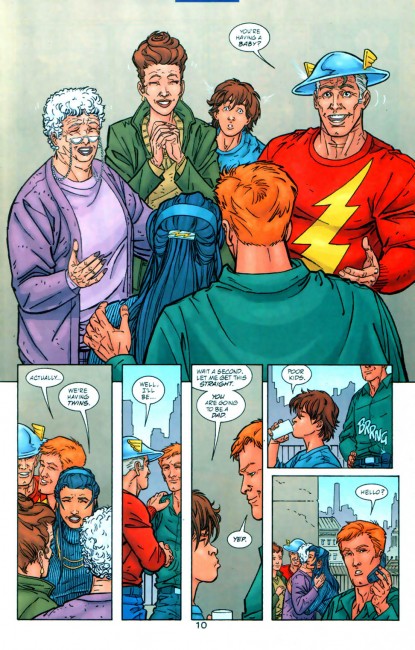 Flash has a pretty large supporting cast, and they all have a role to play. There's his aunt Iris, Detectives Chyre and Morillo, Jay and Joan Garrick, the Rogues (to an extent), Bart Allen, Jesse Quick, and his wife Linda. They all get a moment to shine in this story, and it helps to both turn Flash's world into a fully-realized one and show exactly how high the stakes are.
When the cops are guarding the hospital where Linda is staying after she was attacked, and one of them complains about how Flash brought all of this upon himself, Morillo and Chyre set him straight. When Wally can't figure out what Zoom's deal is, he goes to Jay. When Wally and Linda get together to announce their upcoming parenthood, they call the whole family.
Having a supporting cast that is made up entirely of superheroes or just close family can be toxic. JMS reduced Spider-Man's cast to Mary Jane and Aunt May, and the book suffered for it. Batman rarely interacts with his civilian friends. It's like when heroes never stop to eat or take a shower. You may not exactly notice it, but it makes them less than human. Having a variety of friends and family, be they human, superhuman, or otherwise, is valuable. It creates the illusion of a world outside of the comics pages and characters who have genuine relationships outside of their superhero lives.
The fact that everyone shows up in this arc, save for one or two minor characters, is notable. It shows that this is a big deal, but it also shows that Flash has a support system of friends and family standing behind him. It means that Zoom is wrong. Heroes don't need tragedy to be effective heroes. Sometimes, all they need are friends and a strong sense of what's right.
Similar Posts: