April 28th, 2010 by
david brothers
| Tags:
idris elba
,
Marvel comics
,
movies
,
newsarama
,
thor
Comic fans are funny.
From the Guardian the other day, in an article about Idris Elba playing Heimdall in Marvel's Thor movie:
His view was not shared among the more vehement of the comic books' fans. "This PC crap has gone too far!" wailed one. "Norse deities are not of an African ethnicity! … It's the principle of the matter. It's about respecting the integrity of the source material, both comics and Norse mythologies."

Fellow fans were quick to nod their horn-helmeted heads.

"At the risk of sounding like a bigot, I think this is nuts!" said another. "Asgard is home to the Norse Gods!!! Not too many un-fair complexion types roaming the frigid waste lands up there. I wouldn't expect to see many Brad Pitt types walking around in the [first mainstream black superhero] Black Panther's Wakanda Palace!"
I had a hunch, so I got on the googling machine and found out that they were from (wait for it) ComicBookMovie.com. The guy also hit up everyone's favorite bastion of good taste and peaceful tolerance, Newsarama! The conversations on both sites go about how you'd expect. The usual protestations against political correctness, "what if it was a black guy being replaced by a white guy," blah blah blah. It's the same argument you've seen on every comics site ever since Elba was announced as playing the role. I'm sure you can find it on CBR, Scans Daily, and whatever forum you care to name. Sometimes people are reasonable, sometimes people fight back against affirmative action. There's a range
But, really, Captain I'm Not A Racist BUT has a point. Heimdall is a Norse god, and specifically considered to be the whitest of the gods. Idris Elba… isn't. It's race-changing for no good reason, beyond having a little more color in the cast and a talented dude getting work. It's no different than Michael Clarke Duncan as Kingpin in Daredevil (though he is the only actor I can think of with the physique for that role) or Alicia Masters in Fantastic Four.
But on the other hand… Marvel's Thor is a sci-fi infused mythological remix, where gods dress like people from outer space and live in golden, gleaming spires. Asgard's most popular non-Thor deities are a space horse, Errol Flynn, Charles Bronson cosplaying Genghis Khan, and Falstaff. Liberties have already been taken, what's one more?
I guess what I'm really trying to say is…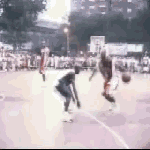 sucks to be you, homey. There's no pity in the city.
(Schadenfreude? What's that?)
Similar Posts: