January 13th, 2010 by
Esther Inglis-Arkell
| Tags:
birds of prey
,
DC comics
,
Gail Simone
What had me singing "Oh, What a Beautiful Morning," today?  Sure, my week brightens around Wednesdays.  And sure, I was still riding high on the leftover Batmanderthal vapors.  But this is what really kick-started my morning: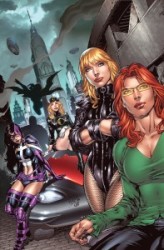 The Birds of Prey are back!  And they're being written by Gail Simone!
Of course scans_daily is all over this, including the mysterious blacked-out figures in the background.  Creote is the front-runner, as far as speculation goes, for the big figure.
There are more contenders for the flying figure.  They include
1.  Misfit – Charlie Gage-Radcliffe  (Yeah, yeah.  "Dark Vengeance."  Not my favorite.)
2.  Batwoman – Kate Kane (I'd think she'd be up front in the picture, though.)
3.  Batgirl – Bette Kane (That could be interesting.  And I'm pretty sure she'd be pissed to see how many people have stolen her moniker.)
4.  Manhunter – Kate Spencer (Very unlikely.)
5.  Spoiler/Robin/Batgirl – Stephanie Brown  (I don't think Gail Simone has ever written her before.  That could be cool.)
Simone states that the two new characters are a pair, which cuts down on a lot of possibilities.  I suppose they could be Creote and a very interestingly posed/surgically altered Savant.  The ruling theory, though, is that they are Hawk and Dove  in some new iteration of the pair.  We'll know in spring.  Until then, I'm humming the rest of Oklahoma!, and keeping hope alive.
Similar Posts: