January 13th, 2009 by
david brothers
| Tags:
blogosphere
,
DC comics
,
Marvel comics
,
marvel zombies
,
pause
,
vixen
Here's a question*. Do you think that people who are interested in reading Vixen: Return of the Lion, with words by G Willow Wilson and pictures by CAFU, care about this?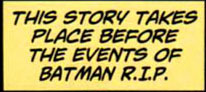 The correct answer is no.
Vixen is a series that is a repositioning of a recently reintroduced Justice League character who hasn't appeared regularly for years. Batman appears on a few pages out of the issue as a guest star on a rescue mission. There's no mention of his troubles in RIP– he's just Guest Star Batman. Guest Star Superman, Guest Star Red Arrow (ugh), Guest Star Black Canary, and Guest Star Black Lightning round out the cast.
No one cares about Batman RIP because it doesn't matter in the context of Vixen. How about we kill this continuity spider-web stuff and just stick to the shared universe approach? "Hey, it's Batman! I like Batman, and even though he is currently Jean Paul Valley in his ongoing comic, I'm not enough of an anal-retentive OCD nerd to care!"
I'm not saying that you should never acknowledge things… but use some discretion. It's worthless here.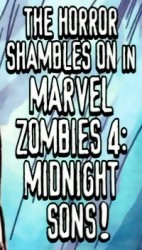 On the flip side, this is kind of hilarious. One of my favorite things about Marvel is that they don't throw anything at the wall to see what sticks– they throw everything.
For those of you who don't know, Midnight Sons was Marvel's '90s supernatural line. Morbius, Blade, Hannibal King, Frank Drake, Ghost Rider, Johnny Blaze, Vengeance, and Marvel's other supernatural characters were in a supergroup, or loose affiliation to this supergroup, called the Midnight Sons. They fought vampires, satanist mummy people, demons, Mephisto, and whatever other vaguely supernatural enemies decided to come calling. They were about as edgy as you'd expect, too. The satanist mummy chick had her pentagram on her right breast, for example.
Anyway, it's the kind of idea that you'd never expect to make a comeback, but so far we've said that for Luke Cage, Iron Fist, Bucky, Hellcat, Captain Marvel, Moon Knight, and so on- you get the picture. Marvel has a habit of revitalizing their b, c, d, and z-list in a way that's either genuinely entertaining or entertaining on a curiosity level, at least temporarily.
I can't promise it'll be good, but it's almost sure to be more interesting than the latest Superman origin re-telling.
*This question takes place after Secret Six Discussion, but before Weapons of Mass Destruction.
Similar Posts: