November 2nd, 2009 Posted by david brothers
I usually never dress up for Halloween- didn't as a kid, had no interest in it as an adult. This year, though, I was shanghai'd into it by Ron Richards of iFanboy and James Sime of Isotope. So, you know, I put on a costume. It wasn't my fault, they would've killed me.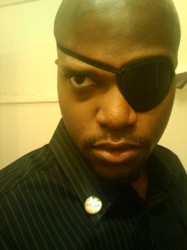 Esther, however, actually enjoys Halloween. She was supposed to come over to
record an episode of the Fourcast!
this past Saturday. Imagine my surprise when I opened my door and saw, not Esther, but Clark Kent! And in the process of changing to Superman, no less!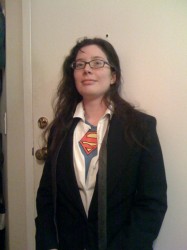 Later, I went to a party. While there, I saw not just Superman, but
Superman
hanging out with
The Shade
! And wait,
Han Solo
was around, too? Luckily, Chunk Kelly was on hand to photograph both the
teamup of three titans
and
dynamic duo
.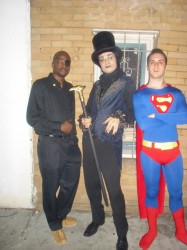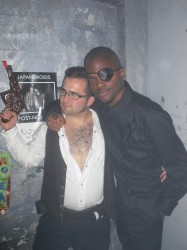 My buddy Star St. Germain also had a pretty awesome costume. We somehow managed to see each other once the whole night, so no pics of us together.
If you got costumes, let's see 'em.