November 3rd, 2008 by
david brothers
| Tags:
amazing spider-man
,
Marvel comics
,
savage critic
,
spider-man
,
Video Games
Add "Chasing the Dragon" into that super-long title, too.
I was talking to Graeme (Savage Critic(s)/io9) McMillan over email a few weeks back and he mentioned how he wasn't sure that being a fan and being nostalgiac were two different things. It ties into the first shock of experiencing certain things. To paraphrase and extrapolate on his point a bit, you end up chasing the dragon.
My response was in the negative– nostalgia is obviously something that old people have for old boring comics. It's new comics being written like old comics because that's the way it used to be. It's Hal Jordan being Green Lantern again, Superman's dad dying, and all that continuity cop crap. It's strip-mining the past to tell stories today. I'm the kind of fan that likes the new hotness, not that old and busted crap that somebody's grandpa wrote.
The long and short of it is that I'm a liar and Graeme McMillan is right.
I had this realization a few days ago. Despite working with video games all day, I'll throw on a game I like and fool around for an hour or so to relax and chill out. One of the games I've been screwing around with for the past week or two is Spider-Man: Web of Shadows on Xbox 360.
Now, I'm a huge Spider-Man fan. He's my favorite hero, even beating out the Flash, and I'll generally try anything he's in. Spider-Man 2 was an excellent Xbox title and easily the best movie tie-in, but the franchise has suffered since then. Ultimate Spider-Man had a great style, but the chase scenes were a lot like being forced to pull splinters– necessary and amazingly annoying. Spider-Man 3 was better than the movie, but still featured gameplay that was kind of like waking up to find Jabba the Hutt's butt in your face.
So, for some reason, I was a little interested in Web of Shadows. It had Spidey, Venom, an interesting story, and more than a few cameos. Luke Cage, Black Widow, Wolverine, and Moon Knight all show up. I figured that I'd at least give the game a go, since they're marketing it directly at me and all.
Turns out that I can only stand to play the game for 15-30 minutes at a time. It's buggy, the characters are annoying, the missions are repetitive, and the tutorials are terrible. The lock-on system varies between being too sensitive ("Hey awesome I locked on a dude two blocks behind me, screwing up the camera and my current fight") and terrible ("oh what's this i can't lock onto a guy directly in front of me?"). The auto-upgrade system doesn't tell you what it upgrades or when, and the manual upgrades have clunky menus, making it a pain to get new skills. The new skills you just bought? Generic thugs will block them all day like they were some kind of kung fu master, making your brand new Maximum Spider attack or Ultimate Web Throw completely useless.
Playing it for more than around half an hour brings all of these screaming to the forefront of my brain, but I kept going back to the game this week. The animation on Spider-Man is great, and the web slinging is sublime. It's the best it's ever been, and I sometimes spend ten out of those fifteen-to-thirty minutes just swinging around the fake New York.
I was airing these grievances to a few of my FBB4l brethren and Pedro, always trying to one-up a Brothers, told me "Why are you playing a garbage game?" Every time Pedro reads a bad comic and complains about it, I ask him the same thing. It was a fair point, and one that made me rethink my position on the game.
Basically, WoS adds in one good gameplay mechanic (web swinging) and then layers on cameo after cameo in an attempt to keep me interested. These cameos lead to boring tutorials ("hey go beat up 15 of these guys") which lead to boring missions ("all right go beat 20 of these same guys") which lead to worse boss fights ("do this three minute sequence six times in a row while you fight wolverine") which lead to the next cameo. It's garbage. The game is weak and not even remotely worth the sixty bucks. I'd rather they just put the city and web slinging on Xbox Live Arcade and charge ten bucks for that.
On the other hand, post-One More Day Spider-Man is exactly what I want out of Spider-Man comics. It isn't perfect, but it's easily the best Spider-Man has been since Kraven's Last Hunt, which was back when Peter and MJ first got married. Mephisto getting rid of the marriage is a sticking point, I guess, but it's been blown out of proportion. I think that if the stories are going to be this good, then losing a marriage that had stagnated? Net gain.
Moving all of that to the side– the stories are much better than they have been before now. I wasn't a Dan Slott fan before his run on Amazing Spider-Man. His first go at She-Hulk was okay, until he got bogged down in continuity cop and fanboyisms. But Spider-Man? For some reason, Dan Slott's Spider-Man is a lot of fun.
That's a theme that's run throughout Brand New Day and onward. "Spider-Man is fun." He's young, he makes mistakes, and he's down to earth. He's clearly experienced enough to hold his own, he's smart enough to improvise solutions to weird problems, and he enjoys his life, despite the Parker Luck. He's comfortable in his own skin.
He's got a strong supporting cast again, including Harry Osborn, the best character who isn't named J Jonah Jameson. Peter's got a best friend again, which gives him something to bounce off of, and he's got girl trouble. We've got more than just Aunt May and MJ, though both of them are present in one way or another.
The art is amazing. I don't think I have to say more. If you don't like John Romita Jr, Marcos Martin, Chris Bachalo, Barry Kitson, or the other cats who have put pen to paper (or stylus to Wacom), something is wrong with your brain.
Finally, the pace is excellent. Shipping three times a month gives the book an entirely different feel. Story lines pop up and end within a month. Subplots percolate in the background, old school style, and there are a lot of them. Despite all of this, the book is very manageable. You won't miss out on a reference because you missed an issue six months ago. It keeps you in the information you need.
The first few months were dedicated to creating new villains, rather than reusing old ones over and over again. This resulted in both having an interesting new series of characters for Spidey to interact with, but also making the return of the old villains in New Ways to Die a blockbuster occasion.
After the latest issue, where we get this scene: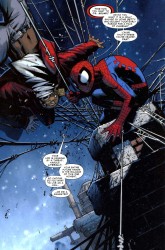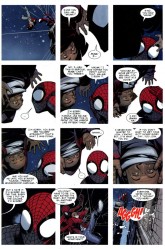 Amazing Spider-Man is pretty much everything I want out of a Spider-Man comic. It's a great mix of funny, fun, and action. Spider-Man looks amazing. We get expressive eye lenses and half spidey masks, a couple of personal favorites, Ben Urich, an Aunt May who isn't just an old lady, and by the way, did I mention the amazing art?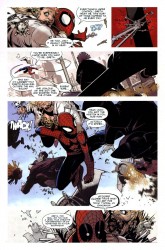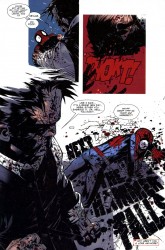 You want to know the difference between why I pushed and played Web of Shadows long after I was tired of it (two hours, for the record) and why I love reading Amazing Spider-Man these days?
Nothing. I'm a fan of Spider-Man, and it makes me happy to see that this character who introduced me to comics is once again receiving the quality I think he deserves. It's nostalgia. It's being a fan. I am a fan of Spider-Man because I was once a fan of Spider-Man.
That has waxed and waned over the years. I quit JMS's run after JRjr left, which turned out to be a great idea, since the next two years were pretty much crap. The Clone Saga helped chase me away from comics when it was getting going. For a while, I liked X-Men more than Spidey, but quickly came back around when the art got better. Save for Paul Jenkins and early JMS, the majority of Spider-Man books printed between say, 1994 and 2008 are not worth your time. There are a few exceptions– Todd Dezago and Mike Wieringo had a fun run, for example. However, you aren't missing much if you don't buy that Spider-Man trade collecting, say, Maximum Carnage or anything Howard Mackie ever had a hand in.
Now, though, it's back in full force. I look forward to picking up Amazing Spider-Man three weeks out of the month. I know I'l get a treat that pleases me and the me from however long ago I started reading comics.
What's kinda funny is that Tucker Stone wrote about this same thing on Wednesday, though I found it on Sunday morning.
The moral of the story is that Graeme McMillan and Joe Quesada are both right.
Similar Posts: