November 30th, 2008 Posted by Gavok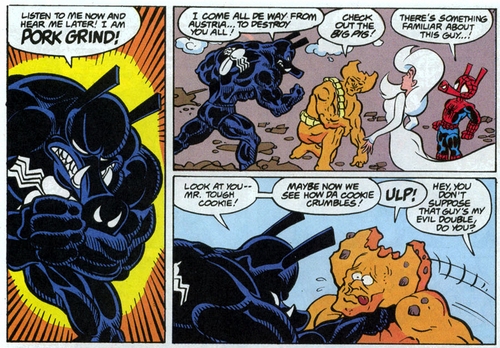 Um… let's not make eye-contact. Just move on.
To bring us up to speed, Venom left his life in San Francisco as a Lethal Protector to the secret underground city behind so he could visit New York City and throw down with Carnage. Carnage was already taken care of, so Venom fought the newly-christened Scarlet Spider, who knocked him out and led to his apprehension. Now Eddie Brock and the symbiote are separated and incarcerated by the government.
This brings us to Separation Anxiety (Venom #23-26) written by Howard Mackie and drawn by Ron Randall.
In a bout with splitting hairs, I always found it interesting that they named a videogame after this story. For one, the game's story isn't based on Separation Anxiety, but Lethal Protector. Second, the game is meant to be a sequel to Maximum Carnage, even though that story came after Lethal Protector. Third, even though Carnage had nothing to do with Lethal Protector, they toss him in as the final boss for the hell of it. Hey, they did have those sprites lying around from the last game.