September 26th, 2008 by
david brothers
| Tags:
amazing spider-man
,
music
,
rap
,
skottie young
,
spider-man
SkottieYoung.com: Business Isn't the Same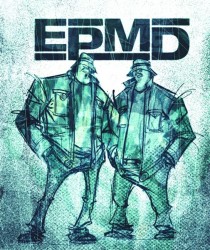 I hate to admit that in some ways, I've become the guy who talks about the music of his youth is so much better than what the "kids" today listen to. But dammit, I'm right!!!!

I can remember running home after school to try and catch the 1 hour of hip hop they would play on tv. I loved it. It was so new and different that everything else and I craved it before I knew what a craving was. I'm not going to pretend that I know why it spoke to me so much or say I was ahead of the curve on anything. I just loved it. KRS-One, Public Enemy, Nice & Smooth, Special Ed, Eric B & Rakim, 3rd Bass, Big Daddy Kane… I could keep listing names all day. It just felt fun, and energizing. One of my favorites of those days was Eric and Parish…EPMD. Get the BoZack. You got to Chill, Crossover, Headbanger, on and on and on and on. I remember being heart broken when they broke up but got my smile back in '97 when they brought it back. They really frame the sound that I remember as a kid growing up.
Skottie Young is one of my favorite artists. That New Warriors miniseries he did with Zeb Wells was definitive, and Marvel really needs to give him an Amazing Spidey arc. Click through to check out his blog.
Similar Posts: