December 31st, 2006 by
david brothers
| Tags:
4thletter is...
,
blue beetle
,
booster gold
,
countdown
,
DC comics
,
doomsday
,
family
,
hawk
,
hawkeye
,
ign
,
infinite crisis
,
jaime reyes
,
jla
,
justice league
,
Marvel comics
,
max
,
new warriors
,
race
,
spoiler
,
superman
,
war games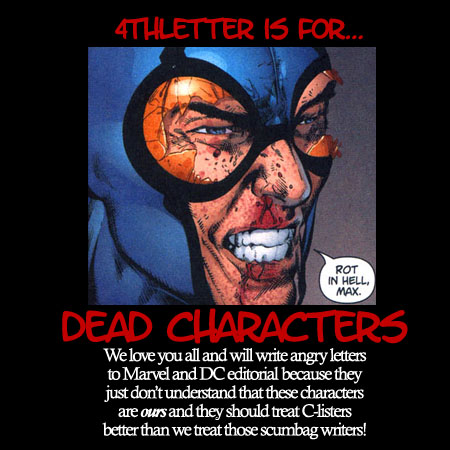 Sorry, just a bit of sarcasm there. Seriously guys, I know you love Hawkeye/Beetle/Spoiler/The Aquarian/New Warriors/JLI, but no one actually has a vendetta against these characters. Do you know why companies kill them? They kill them because you love them. They know that every character, from Skin to Ronnie Raymond to Doug Ramsey to Bill Foster, is someone's favorite, except Wyatt Wingfoot, of course. This is especially true on the internet. Killing a character, or hinting that you will kill one, is a surefire sales and word-of-mouth bump. That's why they do it. They'll get a rise out of you each and every time.
It's okay to be upset, but not to the point that you're throwing out ad hominems and death threats at writers.
Just… be real about it. It's just comics, dog, it's not that serious. It sucks, yeah, but that's life, right? It's cool to come up with scenarios to bring them back to life or critique why they died, just have some perspective.
Anyway, Blue Beetle.
Like a lot of the DCU, I first encountered Ted Kord in the pages of the Death of Superman. He, along with Booster Gold, were part of the JL(A?) that went up against Doomsday before Superman. I had no idea that those two were the jokey-jokesters that they apparently were in JLI. I thought that they were just two heroes with cool costumes, but that's possibly because I've always thought of goggles as being kind of cool. (Don't tell anyone I told you that.) Plus, geez, they went up against the guy who killed Superman!
I thought that Blue Beetle was pretty cool, and then promptly forgot about him and the rest of that Justice League until probably about the time that Formerly Known as the Justice League hit. That was good stuff, so I became a mild fan. Countdown hit after a while and bam, Beetle was dead.
And the internet knew the sound of a billion angry keyboards, epithets and incensed forum posts a-typing.
I thought that the Beetle parts of Countdown, save for the bits where Bats and J'onn were jerks to him, did a good job of showing that he was a hero. I particularly liked the bit where Beetle realized that he had a choice between doing wrong and living or remaining a hero and dying.
"My name is Ted Kord. I am the second man to call himself the Blue Beetle. I tell myself there will be a third. And I hope whoever he or she may be, they do better at it than I have."
He realizes that he can't stop what's happening, not even remotely. Lord's plan is going to take effect, and it's "Join me or die time." Beetle's response?
"Rot in Hell, Max."
That, lads and ladies, is a true hero. Defiant to the end and ready to spit in a villain's face.
He was right about there being a new Beetle, too.
The new Beetle is Jaime Reyes. (It's not Jay-me, by the way. It's pronounced more like High-may. Sorry, I'm a stickler for Spanish.) He's the brainchild of Keith Giffen, John Rogers, and Cully Hamner. He's from El Paso, Texas, and got the Scarab that gave Dan Garret, the first Beetle, his powers.
I really, really like Jaime. He's quite a believable teenager, thanks in no small part to some smart dialogue from the writers. Jaime was missing for a year thanks to the events of Infinite Crisis, unbeknownst to him. While he was gone, his family came apart. His father was shot, but not killed, and his mother turned into a wreck. When he got back, the very first thing he did was reveal his powers to his understandably freaked-out family.
Yes. That is excellent and it was so nice to see. Jaime is still a teenager, still in high school. He isn't super smart, or agile, or whatever. Shoot, he doesn't even know how to fight. But, he understands that family is one of the most important things in a person's life. He trusts them enough to give them his secret. His best friends, too.
After that, Jaime is almost a traditional Marvel hero. He's inexperienced, flawed, and honestly, he doesn't even want to be a hero. He didn't ask for this, and he definitely didn't ask for the JLA to take him into space and leave him there. He's been dealt a raw deal, but he's going to deal with it as best he can.
I like Jaime. I think that he's a worthy successor and his book is a lot of fun. It sucks that Ted had to die to make way for him, but that's comics. You can either embrace the illusion of change and hold onto your favorite characters until they stagnate, or you can embrace actual change and watch your favorite characters grow old, die, retire, or whatever, only to be replaced by new and improved versions or, heaven forbid, actually new characters!
It's just comics, baby. Love them or leave them. Bad stories are a given in any medium. Whether it's War Games or Onslaught, something out there is going to rub you the wrong way. Enjoy the good stories, ignore the rest. Just don't be afraid to try something new.
Similar Posts: