August 24th, 2014 Posted by Space Jawa

STOP! Don't read THIS WEEK IN PANELS! It's really a trap!
READ THIS WEEK IN PANELS!
IF YOU DO, YOU SIMPLY FALL FOR THEIR TRAP!
Or not. I'm not sure, It's all kind of fuzzy, really. The metaphorical context just kind of went right over my head.
In case you have no idea what I'm talking about, read The Multiversity. Maybe you'll have an easier time figuring it out than I did.
In the meantime, here's this weeks edition of This Week in Panels, as provided by myself, Matlock, and Gavok. Noticeably absent this week is Gaijin Dan, whose standard-issue source of panels took a Japanese Holiday. He didn't mention which one, and I didn't bother to look it up either.

All-New Ghost Rider #6
(Felipe Smith and Damion Scott)

All-New Ultimates #6
(Michel Fiffe and Amilcar Pinna)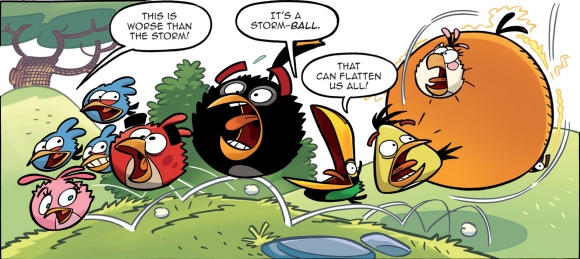 Angry Birds Comics #6
(Jeff Parker and Stefano Intini)