September 9th, 2010 Posted by david brothers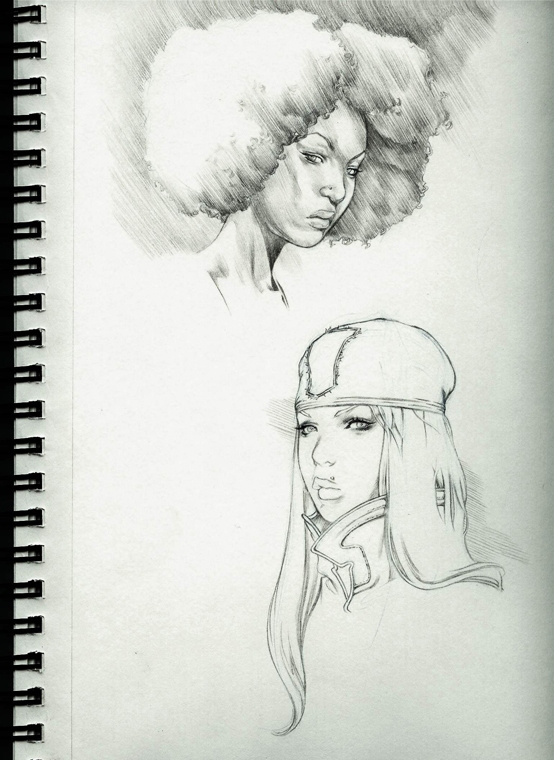 Khari Evans: I guess my man prefers to let his art speak for itself, because I can't even find so much as a Deviant Art. If Evans happens to read this, though, email me, I want to interview you.
Books: Thor: Ages of Thunder
, Daughters of the Dragon: Samurai Bullets
, Shanna, the She-Devil: Survival of the Fittest
, Immortal Iron Fist Vol. 3: The Book of Iron Fist

Why? Hmm… three reasons, no particular order.
1. He can draw believable black people. Not just default people colored brown, but like real deal, proper facial structure having, broad nosed, thick lipped colored folks. Some of the best artists in the industry can't get that right, but Evans does it like it's nothing.
2. There's this word I heard used in various ways growing up. "Stank." Sometimes it was "Put some stank on it," like jazz it up. Sometimes it was my cousin calling some girl I like "stank." (I eventually quit asking her opinion on girls I liked.) It's one of those words with several uses that all derive from the same origin. "Stank" is, more or less, "attitude." Not like a cheery attitude, or a negative attitude, but a "How about you stop giving me lip and having an attitude" attitude. Evans can draw some stank girls and he puts some stank on it when he draws them. My granddad might say that "He draws some mean girls, boy!"
Nobody in comics draws a sneer like Khari Evans, man. Nobody even comes close. That top panel in ke-theorder01.jpg is killer. Misty's face in ke-daughters04.jpg and ke-daughters06.jpg is probably the meanest ice grill you'll see. Evans gets the lip curl, the eyebrows, he gets the whole thing right.
But that just betrays a deeper understanding of facial expressions, doesn't it? 'cause Colleen's dumb "Ha ha I got a surprise for you girrrrrrrrl" face in ke-daughters02.jpg is dead on, too. Or the mix of giddiness and determination in the two in ke-daughters03.jpg. Body language, too. How often do you see crossed ankles in comics? And yet, in ke-daughters01.jpg, they're right there. That slump into the couch–let me stop.
3. You can't really see it here because I chose scenes from one book I really like a lot, but Evans is on point with fashion, too.
(4. Thighs.)