September 20th, 2010 Posted by Gavok
With a swift biweekly run, last week saw the ending of the miniseries Marvel Universe vs. the Punisher by writer Jonathan Maberry and veteran Punisher artist Goran Parlov. I was a bit wary on this mini when it came out, since Maberry's Doomwar just wrapped up and I didn't enjoy it like I hoped I would. I gave the first issue a try and it certainly paid off. I've seen multiple people agree with my sentiment: this comic is surprisingly pretty good!
The comic appears to be based on Mark Millar's intentions for the original Marvel Zombies miniseries. The idea being that Frank Castle is the last man alive and plays the I Am Legend role by hunting down superhero zombies and trying to survive day-to-day. Robert Kirkman decided to go a similar route, only using Hawkeye, until he realized that it had already been established that Hawkeye was a zombie too. Then he went with the Black Panther/Silver Surfer plotline and the rest is history.
So what is it about this second attempt at this idea that makes it so enjoyable to me? Well, there are four elements. This is ignoring the obvious one of "a Mark Millar idea that isn't actually written by Mark Millar."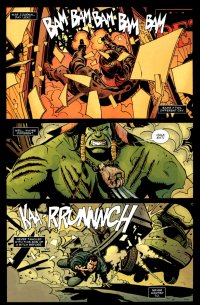 The series takes three existing Marvel stories with promising concepts, improves them separately and mixes them together. The first one is obvious in Marvel Zombies, where the infected Marvel superheroes and villains go tear apart and feed on the populace. The second is Punisher: The End, where Frank kills what's left of the post-apocalypse. Then there's Punisher Kills the Marvel Universe. I'll get to the former two in the other elements.