April 6th, 2010 Posted by david brothers
If you asked me to sum up my Wondercon experience in a couple of short, witty phrases, I'd just tell you that I ate six pieces of pizza over the course of two days and that I spent more on karaoke than I did on anything even remotely comic-related.
That's not the full experience, though. It was an interesting con for me, due in no small part to the ongoing evolution in the way I approach comics, and being a fan of comics. I got no signatures, no sketches, no freebies. I paid for three books and got one for free. I spent maybe twenty-five whole dollars at the con, a drastic decrease from the usual foolishness I get down to. I'll get to that, though.
I left work a couple hours early on Friday to hit the con and get my pass. It was painless, with less than two people in line ahead of me. Other than my pass saying "4thletter!/Popcultureshock.com" for some reason, it was easy like Sunday morning.
I figured I'd walk the length of the hall from wall to wall, but the first thing I did at the con was find Matt Maxwell, Jeff Lester, and Heidi MacDonald chit-chatting in Artist's Alley/Small Press. I killed some time with them for a while, talking about the con and comics, and that more or less set the tone for the con.
I spent a lot of time talking to people about comics and only attended a few panels. I stopped in on the DC Nation panel because a few friends (Esther, JK Parkin, Graeme McMillan, Carla Hoffman, Laura Hudson, a couple others) were there. It was, in a word, abysmal. They completely flubbed looking like they had any idea what they were doing with digital comics, there was a lot of "Wait and see," there were a few "Wait until San Diego" answers… it was boring. I liked when someone asked about plans for Nightwing and got a succinct "Yeah, he's Batman" in response, and I love that Dark Knight: Boy Wonder got announced, but it was a snoozer. I had a similar experience at the Marvel panel I accidentally attended the next day, again because friends were in effect and I had an opening in my schedule. I spent most of it poring over Darwyn Cooke's The Man With the Getaway Face.
I attended a couple panels that were cool. The Greg Rucka spotlight moderated by Laura was a trip and well worth the price of admission. It was in a huge room, for some reason. The Boom! Studios panel was also pretty good, and Ian Brill seemed genuinely excited to be writing Darkwing Duck.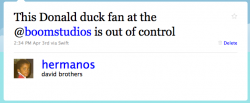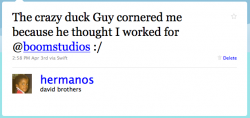 There was a Disney Comics superfan in the audience, too, who kept interrupting to ask about minutiae. At the end of the panel, I went up to say hi to Ian, and as I turned to leave, the superfan was right behind me. He was mumbling something about how we should print the Disney newspaper strips in black and white and not colorize them and something something Carl Barks. I tried to tell him I wasn't part of Boom!, that that was the other black guy in the room, but he just said, "Yes, yes, but I think that…" and kept going. I shrugged and walked away while he was talking. I'm not getting trapped in an infinite conversation ever again, and that definitely had the makings of one.
(You ever had one of those? When someone keeps going and going and you can't find a polite way to excuse yourself because they're so focused that all they want to do is talk about whatever? Yeah. Infinite conversations. They're gonna be the death of somebody one day.)
I attended the Black Cartoonists as Social Commentators panel, too. It was good, but the moderator was a little too overbearing. It was clear he had a very clear and academic formula he wanted to follow, but Keith Knight and Darrin Bell are hilarious, personable, and have great anecdotes. I would've much preferred to see them let loose with a conversation about themselves and their work. The glimpses we got were great, though, and if you aren't reading either, get familiar. Bell's story about how he was getting hate mail after hate mail before Hurricane Katrina and zilch after… that was a good one. It was a good panel.
I spent most of my time walking around with friends like Lauren Davis and Ana, digging in the various half off book booths and looking for stuff to buy. I didn't buy much, as I said before, in part because I know exactly how much stuff is sitting on my coffee table, waiting to be read. I stuck to books I knew I'd love and get to relatively soon. This means I missed out on deep discounted hardcovers, but that's okay. I think.
Read the rest of this entry �