May 11th, 2010 Posted by Gavok
Last time in our adventures, Captain America kicked a lady in the lady business and it made her mad enough to jump out a window. We've all been there. The Enchantress showed up and introduced herself to Zarda, whose inclusion on the team still makes people scratch their scalps.
Now this happens.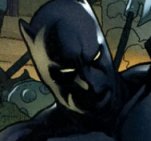 Thanks to ManiacClown, who believes Hawkeye doesn't use the men's room because he's "too pretty to pee standing up".
Next time, Enchantress keeps doing her thing.