January 17th, 2013 by
Gavok
| Tags:
battle royal
,
jeff jarrett
,
ken shamrock
,
malice
,
scott hall
,
tna
,
wrestling
Date: June 19, 2002
Company: NWA-TNA
Show: NWA-TNA Weekly PPV #1
Rules: Royal Rumble where upon there being two survivors, a singles match breaks out
Stipulation: Winner becomes NWA Champion
Roster (20): Apolo, Bruce, Buff Bagwell, Steve Corino, Scott Hall, Chris Harris, Jeff Jarrett, Justice, K-Krush, Konnan, Brian Lawler, Lash LeRoux, Malice, Del Rios, Rick Steiner, Ken Shamrock, Slash, Norman Smiley, Devon Storm and Vampire Warrior
I'm going to level with you. I know tremendously little about the first couple years of TNA. I practically know enough to fill a short paragraph. When coming up with the list for this battle royal series, I was told about how the very first TNA show had a Royal Rumble variation called the Gauntlet for the Gold, meant to crown the new champion. Without doing a single piece of research, I watched this match for the very first time last night.
TNA (which I'll just say instead of NWA-TNA) is the unofficial sequel to WCW. About a year after WCW folded and got bought into WWF as their biggest instance of a ball being dropped, Jeff Jarrett and pals came together to create a new promotion where the shows would be weekly 2-hour PPVs. A radical idea with enough gas to get them off the ground. Dixie Carter's money didn't hurt either.
This match is absolutely surreal to watch as someone who didn't follow TNA back then. Every entrant is a complete surprise to me outside of Jeff Jarrett. Being forced at #1, I've heard many stories about his dominance of the product despite the fact that nobody cared. He was like a mix between Cena and Triple H without the charm. Just a mid-carder insisting on being the dominant top guy out of spite for all the top guys who insisted that he'd never be more than a mid-carder.
I'm getting away from my point. Memories of WWE in mid-2002 can be hazy and what we have here is a roster made up of guys who weren't in WWE at the time. A lot of them are WCW and ECW veterans that WWE had no taste for. Some of them are recent castoffs from WWE, especially because of substance abuse. Looking at Jeff Hardy, it's good to see that some things never change. Then you have a couple instances of wrestlers who are familiar in hindsight as they'll go on to become well-known.
Jeff Jarrett is at #1 and #2 is Buff Bagwell. Bagwell lasts almost as long as he did in WWF and he's gone in about a minute. Jarrett proceeds to take apart Lash LeRoux and Norman Smiley one at a time, dominating the ring. At this point, I'm 80% sure that he'll at least make the finals. 70% sure he'll win.
Apolo finally stops the momentum. I've never heard of Apolo, but a look at his history shows he had a decent enough career in TNA and a cup of coffee in WWE developmental. He's attacked by the following entrant, K-Krush, otherwise known as K-Kwik and currently R-Truth. He represents one of the more noticeable patterns of the commentary. Well, other than Ed Ferrera (or is it Don West? I can't tell) constantly using the term "chucking" to an annoying degree when discussing eliminations.
A lot of the more famous wrestlers get their old promotions namedropped, something WWE has almost always refused to do. When Norman Smiley comes out, they bring up his WCW career. When K-Krush is out there, they mention that he was K-Kwik in the WWF. When Vampire Warrior is there, it's mentioned that he used to wrestle in WWF as Gangrel. Same with Brian Lawler being Brian Christopher and Devon Storm as Crowbar. Yet at the same time, there are guys who they try to play off as new and refuse to discuss their past. Like at one point, ECW's Joel Gertner shows up as the manager of a stable that includes Lodi and Lenny Lane, who are fresh off their rather over Ambiguously Gay Duo gimmick from WCW, as well as "Bruce". Bruce is most obviously Kwee Wee from WCW and yet the commentary team acts like this is some mysterious, brand new guy they've never seen before.
The same happens for a couple guys who aren't as noticeable. They have a guy named Del Rios, whose gimmick is that he's a Scott Steiner knockoff in a company that doesn't have Scott, but does have his brother Rick. I didn't find out until afterwards that this guy was also Phantasio, the Wrestlecrap/Are You Serious staple gimmick who lasted one match in WWF in the 90's. More interesting is when a guy named Malice shows up at #13. Chokeslams all over the place!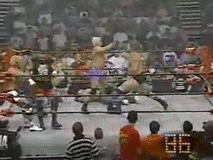 The guy looks very new to me and it surprises me because while he isn't great, he's kind of good for a big guy. He's played up as a pretty big deal throughout the match as a monster heel. I didn't find out until after the match that he's WCW's the Wall after losing a ton of weight! Whoa!
The match goes on and on and while there are eliminations here and there, nothing is too memorable. It is kind of crazy when a really in-shape guy named Justice starts going to town on everybody and after looking at him closely and seeing him perform a Black Hole Slam do I realize that this is the man who will one day be Abyss and Abyss' doofy brother Joseph Park.
Things pick up with Scott Hall, fresh off of being fired from WWE for being his usual drunken self. He beats up the tired Jarrett and drops him with the Outsider's Edge.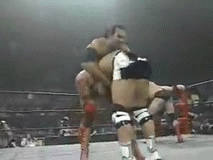 I should note that most of the time, they'd show the 90 second countdown in the bottom corner. I like that touch. Makes things come off as more legit. To go against the "more legit" claim, Hall sees who's coming out next and welcomes him with open arms. It's none other than unintentional parody of America himself, Toby Keith! Yes, the country star played a live performance earlier that was interrupted by Jarrett. He gets his revenge with a little suplex action.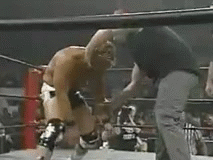 Jarrett is out and I'm relieved. Hall adds a lot of charisma to the proceedings, like when he sits on the top rope and takes a breather, watching everyone else go at it. A few names down the line, we get Ken Shamrock and I do a double-take. Ken Shamrock! I forgot you even existed! I thought he was like Jenny Sparks from the Authority. Once the 20th century ended, he ceased to exist! I remember for years hoping that he'd return to the WWE so we'd get the feud with Kurt Angle that would have written itself. Alas…
Shamrock's house of fire entry is snuffed out by Malice catching him and doing a powerbomb variation. A nice piece of foreshadowing. Brian Lawler is the last guy in there, although the guy in charge of the countdown clock doesn't realize this for a few moments and prepares for the nonexistent #21. Whoops.
Our last five are Lawler, Malice, Shamrock, Hall and Apolo. Malice chokeslams Lawler and the other three begin to corner him. Malice demands they bring it on, but Shamrock decides that it would be better to simply toss Lawler while he's half-dead. As Shamrock hangs back, Malice fights off both Apolo and Hall. First he backdrops Apolo to the outside. Then Hall does that stupid-ass spot that takes me out of every one of his matches.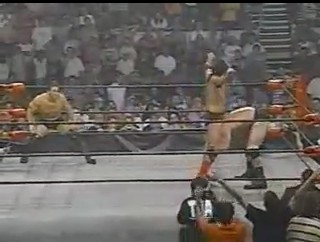 He's done this since his days as Razor Ramon. He sets up the Outsider's Edge right in front of the ropes, as if he'd do the move in a way that would cripple or kill 99% of its victims. It never, ever hits and always leads to the same output: Hall gets backdropped over the top rope. Here is no different. We're down to Shamrock vs. Malice and Ricky Steamboat comes in as the referee.
The brief match isn't so bad, all things considered, outside of a moment where the two are so blatantly calling spots in front of the camera. It's Malice's size, resilience and heel manager interference vs. Shamrock's relative freshness and submission skill. Shamrock can't get him to tap with an armbar or ankle lock, but a belly-to-belly suplex out of nowhere catches the big man with a three-count. Shamrock is the champ. Malice looks strong here and it's even more unfortunate that he'd pass on a year and a half later.
And what better way to end this very first TNA show that crowns its champ than cutting to Jeff Jarrett and Toby Keith being separated by security? God…
Tomorrow, we finally return to the WWE. To describe the next update in two words and a bunch of ellipses: "………………….is cooking."
Similar Posts: