November 7th, 2011 by
david brothers
| Tags:
music
,
the roots
There's a new album from The Roots coming out 12/6, undun. The first single for it is on Amazon, now. It's "Make My
" and features Big K.R.I.T., an ill producer/emcee out of Mississippi. I just found out his Return of 4eva got chopped and screwed while digging up his website. I don't usually buy singles, and I didn't buy this one, but I listened to the stream a few times. Unsurprisingly, I dig it. The Roots have been one of those groups I've liked since I was a kid. Ever since Things Fall Apart.
Here's the concept for the new joint:
undun is an existential re-telling of the short life of one Redford Stephens (1974-1999). Through the use of emotives and Redford's internal dialogues the album seeks to illustrate the intersection of free will and prescribed destiny as it plays out 'on the corner'. Utilizing a reverse narrative arc, the album begins as the listener finds Redford disoriented–postmortem–and attempting to make sense of his former life. As he moves through its pivotal moments he begins to deconstruct all that has led to his (and our own) coming undun.
And here's ?uesto's comments on the concept:
"At this point in our career we'd like for our work to have a unifying theme, and an experiential quality. We've been intentionally making our albums shorter in length so that they can be experienced as a continuous work. The music is band-oriented with an eye on the moody cinematic. As a DJ, I am the King of playlists, but I don't want our albums to feel like a playlist or a mixtape for that matter. We want to tell stories that work within the album format and we want the stories to be nuanced and useful to people. Undun is the story of this kid who becomes criminal, but he wasn't born criminal. He's not the nouveau exotic primitive bug-eyed gunrunner like Tupac's character Bishop in Juice… he's actually thoughtful and is neither victim nor hero. Just some kid who begins to order his world in a way that makes the most sense to him at a given moment… At the end of the day… isn't that what we all do?"
And the album art, featuring photography by Jamel Shabazz: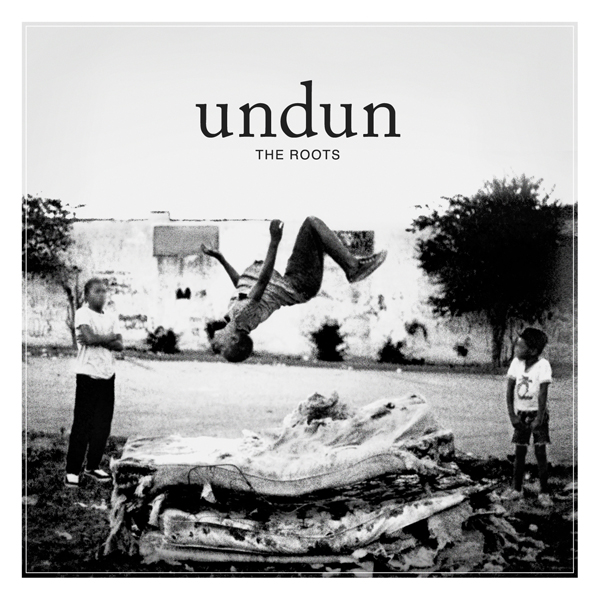 That sounds good, right? Fate vs free will, getting by however you can, being trapped in an inescapable cycle… all of that stuff is right on target for me. I like how The Roots explore a specific theme over the course of their albums, too. Their last record, How I Got Over
, was a raspy struggle album. It felt a lot like a gospel album. It was about survival, really. It was about what we have to do to survive ("Hustla": "They say life's a bitch, but it's one life to live/I want my baby where that cake and the icing is/Out of them crisis-es, off of them vices-es") and what living in the world is like. "Dear God 2.0" is practically a wail, yeah? "Uh huh, they said he's busy, hold the line please/ Call me crazy, I thought maybe he could mind read" is pretty sad. It's not a downer album, though. The record's about triumph, though, "How I Got Over." It's just showing you how.
Wake Up!
proved that the issues of yesterday still matter today. It's an album of covers of political songs from the '60s and '70s, with John Legend on vocals. I'd heard a lot of these before. Maybe half, I'm not sure. But what killed me about this one was that it all seemed so on point for today. "I Can't Write Left-Handed" is as great an anti-war anthem as any other song. Legend vamps a bit much for me on this record, but he's overall quality. The songwriting is very strong, too, which helps a lot.
Rising Down
was a blast of rage, "America, this is what you made me" battle raps and mean mugs. It was like they were getting their licks in now that George W Bush was on his way out, and the result was a tense, mean album. I don't think it really hit a pop sound until the last song on the album, "Rising Up." "Get Busy" is raw rappity-rapping, with a mean buzz, twang, and sharp drumming getting the point across. (Sidebar: I can't tell you how much I love that "It's like WEB DuBois meets Heavy D and the Boyz" line Dice Raw kicks. And Peedi Crakk's whole verse.)
Killer Mike has this thing on the intro to I Pledge Allegiance to the Grind II
that I like a lot. He says "We don't have fans, we only have supporters… and I say we have supporters because it takes a lot to dig in your pocket or dig in your purse and break bread with fifteen or twenty dollars and buy a record. I believe when you buy a record you should leave that record with something more than a bullshit experience." I completely agree, and that describes the MO of The Roots pretty well, too. There's meat on their albums. They aren't just collections of songs. They're something way deeper than that. There's a point beyond "it just sounded good," which is already a good reason to make an album.
Here's the video for "Make My." It's pretty good. Really looking forward to this album.
Similar Posts: