August 15th, 2011 by
david brothers
| Tags:
brian michael bendis
,
Colored Commentary
,
sara pichelli
…that it is essentially covert, or maybe just casual, white supremacy.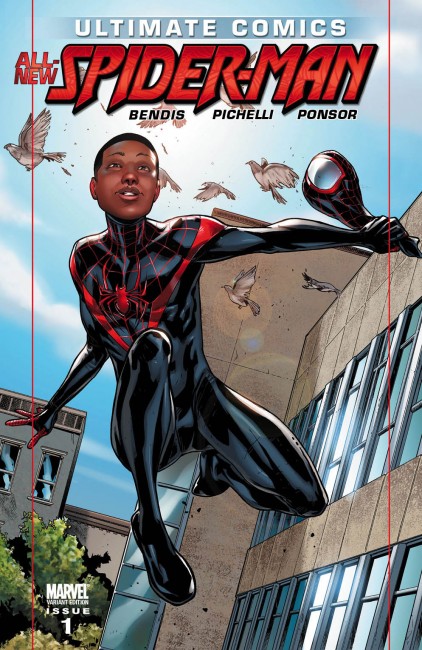 How great does this kid look, by the way? Sharp haircut. Sara Pichelli is great.
Here's the short version:

The long version keeps drifting on me and not coming out correctly, so let me try and boil it down:
The words you choose to use simultaneously reflect and create the world around you. If you make an effort to be effusively positive about things, you're going to attract people who either share in or enjoy your positivity. The odds are good that they will be positive, too, setting up a situation where you both feed off each other. If you want to keep up a too cool for school distant air, and so your version of effusive praise is "Oh, yeah, that was cool," then you're going to attract like-minded people who understand you. Make sense? Everything feeds on everything else.
"Black Spider-Man" otherizes Miles Morales. (It also ignores that he's half-Puerto Rican, but that's another conversation entirely.) He's not Spider-Man. He's black Spider-Man. He isn't the new Spider-Man first, or Ultimate Spider-Man first. He's black Spider-Man. Which is funny, because Barry Allen and Wally West were just the new Flashes. Hal Jordan is a Green Lantern, but John Stewart is the black Green Lantern.
It foregrounds Miles's race in a conversation where his race should be irrelevant. His race is probably going to end up being just as big a part of his character as it was for Peter Parker–which I do think was a fairly significant part of that character–but in terms of who the character is and how we refer to him, "black Spider-Man" is garbage.
It sets up the adjective-less Spider-Man as the default, and therefore superior, version. Black Spider-Man will always be second-best because he wasn't first. Comics fans in particular like to prize the original flavor, or whichever flavor was dominant whenever they began reading, so you can't tell me that isn't true. Every time I read "black Spider-Man" I taste battery acid. It feels mean, like the most important part of Miles's character is that he's (whisper this with me) not white!
Every single person who has dropped the "Batman of Africa" phrase into their news report, writing, solicits, interviews, commentary, criticism, or emails is lazy. Plain and simple. Every single one. If they aren't mocking the phrase, they are lazy. Whenever I see it, I want to (and usually do) stop reading whatever page I'm on. There is no Batman of Africa, just like there's no Batman of South America or Batman of Europe. There are Batmen of France, Argentina, and cities, but there are no Batmen of continents. David Zavimbi, Batwing, is the Batman of the Democratic Republic of Congo, or maybe the Batman of Fake-Kinshasha.
"Batman of Africa," like "black Spider-Man," plays into these subtle, but still awful, racial and national stereotypes. Africa is "AFRICA" in people's minds because lazy, racist fiction and news painted it as a monolithic dark continent full of black people. Lies cloud the mind. Africa, like any other continent, features an astonishing amount of ethnic diversity, whether native or immigrant. You don't even have to open a book to know this. Charlize Theron is African, man. More specifically, and more respectfully, she's South African. She's from Johannesburg. She's famous.
But the mental image that leaps to mind when people say "Africa" is bone nose savages, savage warlords, savage child soldiers, and AIDS savaging the countryside. Not Egypt, or the Ivory Coast, or a continent of one billion people, most of whom are just like us and go through many of the same trials and travails that we do. There's no diversity in "AFRICA!" That fact is ugly and stupid. It's 2011. What's wrong with you?
David Zavimbi, presumably, is Congolese. "Batman of the Congo" has less of a ring to it, but it doesn't make you look as unforgivably ignorant as "Batman of Africa" does.
Being black is no more remarkable than being white. Miles Morales is notable for being the first black Spider-Man, particularly in Marvel's Ultimate Universe, but it isn't his blackness that makes him special. It's the fact that he's not Peter Parker. The fact that he's half-black, half-Puerto Rican, (and how cool would it be if his dad was a dark skinned Puerto Rican and his mom was light skinned black?!), that it looks like he's taking part in a lottery to get into a good school in the preview images, and that he's thirteen years old is just sauce. It's not the meal. It's part of the meal, sure, but you do yourself and the character (or rather, the concept, what the character represents, or something, because we do not respect characters 'round these parts) a disservice by boiling him down to "black Spider-Man." He's so much more than that, judging by the press run Marvel just went on, that breaking him down to being the black Spider-Man is… it's garbage, it's lazy, it's stupid.
It makes you look like Stormy.
This is drifting.
Black Debbie doesn't exist. I probably could've left this at the Sealab video and been good.
Please think before you speak.
Similar Posts: