August 2nd, 2011 by
david brothers
| Tags:
brian michael bendis
,
sara pichelli
–This review of Fantagraphics' Peanuts reprint project is great. This little girl gets exactly why Charlie Brown and Snoopy are so wonderful. Hang it up, everybody else.
-My main man Tucker Stone turned five and then got back down to the business of showing you the guts of this week's comic books.
-Rich Johnston pulled together a post meant to educate some dickface retailer about racism and speaking in public. It's a good one, very well done. He asked me if I wanted to contribute, but I declined. I felt like that guy had gotten enough, or even too much, of my attention after I tweeted about it two times. C'est la guerre, right?
-The reason that retailer went off on the racist tip is that the new Ultimate Spider-Man (created by Brian Michael Bendis and Sara Pichelli) is a half-black, half-hispanic kid named Miles Morales (alliteration, holla). While I stand by my position that original characters are greater than legacies, who are by their very nature subordinate and inferior to the original model, I also understand that cape comics are screwed and cannot support new original characters. They have to be tied to the old in order to survive today. It sucks, but that's the industry we've built, right?
-The retailer, of course, is noted sexist douchebag Larry Doherty of Larry's Comics in Lowell, MA, whose previous claim to fame, a year or two before making jokes about "nigga lips," was calling out ComicsAlliance editor-in-chief Laura Hudson as a one-trick pony who only talks about sexism in comics and, I assume as some sort of incredible zinger, sending her a photo of a woman with a bunch of hot dogs stuffed in her mouth. It's cool that he's outed himself as a racist, too. Gotta catch 'em all, right?
-Every time I see somebody on Twitter shouting that guy out like "Yo this guy knows how to sell comcis!" my eyes narrow a little bit. Watch who you associate with, because it's all too easy for their actions to define you.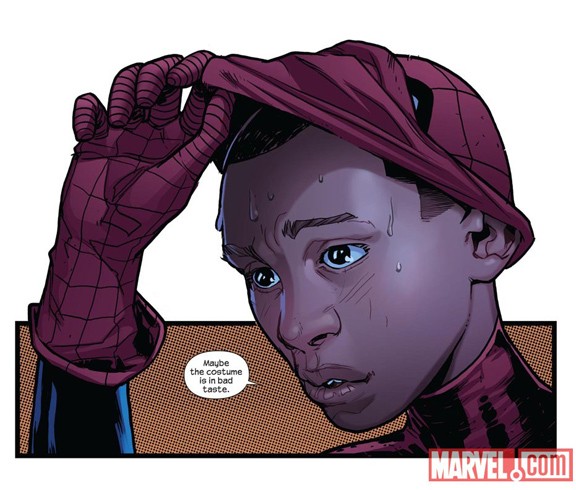 -I don't necessarily think Marvel should be patted on the back, but this is a pretty cool move. No other major character–and the major characters these days are Superman, Batman, and Spider-Man, make no mistake–have been replaced by a non-white. In this case, the one, true Spider-Man, or Ultimate Spider-Man, or whatever, is a black guy. What's more, this'll pull the Ultimate universe away from pantomiming the past, which is what the last murderfest and reboot was supposed to do. You can't do a retread of Venom with Miles Morales. They don't have the history, and there are no expectations.
-No, there are some expectations. We'll see the classic villains, probably for the first year or so, to ease readers in. Seeing how the new guy (and I hope he has a different personality than Parker and doesn't use the same yiddish slang) interacts with these old characters will be more interesting than seeing Parker do the same old song and dance. Word is that he'll be working with Aunt May and Gwen Stacy, too, which is cool.
-I tweeted some stuff about the new Spider-Man and the marketing of the character, too: "It would be nice if the Big Two could treat diversity as a fact of life, but the market & genre demand events/hype. It's nice when they try. So, though I haven't been a big Bendis fan for a while, I'll try out this new Spider-Man. It's (mostly) new and fresh. I hope it works out. Wonder Woman's pants has been a running argument for over a year now. A new Spider-Man, and what's more, a black one, is gonna be a big deal. It's like that bit in Casanova. "The genre demands it!" The cape industry bends strange in a lot of nonsensical, but traditional, ways. but anyway, Sara Pichelli is ill, and I'm all about her getting a brand new #1 to call her own, and hopefully a fat sack of royalty checks"
-One request: can we not call him "Black Spider-Man?" That's stupid.
-There's this quote from Sara Pichelli in Marvel's PR that I wanted to pull out: "Maybe sooner or later a black or gay – or both – hero will be considered something absolutely normal."
-What she says works directly against Marvel's marketing. (Spider-Man is black now!) She's saying that this sort of thing should be par for the course, rather than an aberration. I like that she slipped that in there, whether my understanding of her statement is what she intended or not. The big deal about Nightrunner, the new Aqualad, and… who am I forgetting? Batwing? Blue Beetle? The big deal about all those guys should've been no big deal to us. I don't get hype when an ill new black character shows up in One Piece (word to sleepy old Admiral Kuzan) or in a new movie. Why should I when it happens in the comics I've been reading since I was a child? If anything, these books should be the ones blazing trails like they used to do.
-Pichelli's art is great. I did a Pretty Girls on her last year. Happy to see her with a huge gig.
-Thinking about this deal (and regrettably reducing it to a tired old Big Two competition, which I normally loathe but in this case is a viable angle for analysis)… Marvel's never really had as much of a problem with race as DC has had. The '70s were very good to them in terms of introducing cool new faces, and the 2000s (and maybe a little earlier–Priest's Black Panther) saw a resurgence of strong titles featuring black characters. I think we're long past the day when someone like Triathlon could gain traction, but Marvel definitely tries something new time and time again. Therefore–they didn't have to create Miles Morales. They have characters who we love who are good.
-DC pushed Cyborg to the front lines as part of their big diversity push (at least in part) because he's the only black guy they have that 1) has a fairly sizable fanbase (due to Wolfman/Pérez Teen Titans mostly) 2) doesn't have Black in his name (eliminating Black Lightning from the runnings) and 3) isn't a legacy character (peace out, John Henry Irons, John Stewart, Mr Terrific, Aqualad, and a handful of others). Not to say that he doesn't deserve to play in the Big Leagues, because he absolutely does, but there's a… paucity of candidates, aren't there? He also isn't named Vixen, which is a huge bonus.
-Marvel, though, has a figurative ton of black characters they could throw into the Avengers without anyone batting an eye, other than the people who make a hobby out of batting eyes. What's more, they put him into their biggest costume. So, yeah, maybe this new Spider-Man really is something to be applauded. I'll have to think it over some.
-I was on a Best/Worst Manga panel at SDCC 2011. You can read Deb Aoki's great recap here.
-I liked this NYT piece debunking a few myths about slavery, marriage, and family, too.
-This post on Eating Watermelon While Black was also a pretty fun read. It's interesting seeing other people's perspectives on the very real cultural/social divide between black and white.
-Geez, I guess I did have something to say about Miles Morales after all. Hopefully the new book is good. Both companies' sudden stabs at being inclusive seem sort of like a last-ditch gasp for air before the lights go out, but at the same time… I appreciate that they're trying. Better late than never, right?
-New costume is pretty tight. I like the black and red, and the webby fingers.
Similar Posts: