June 6th, 2011 by
Esther Inglis-Arkell
|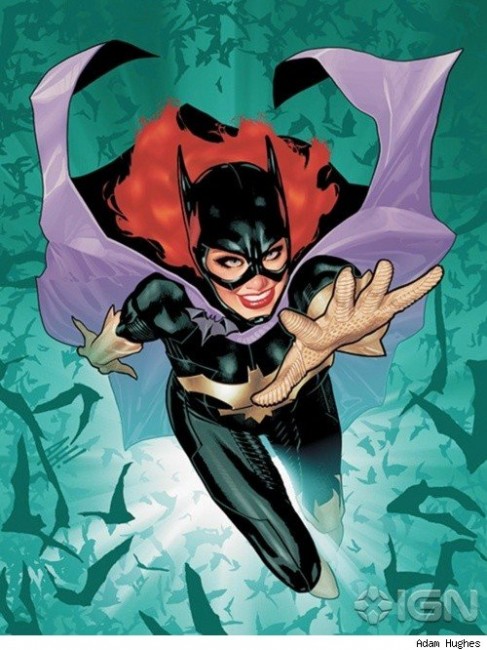 I was initially very unimpressed with Flashpoint.  Not the many different worlds; I liked that.  The Azzarello Batman: Knight of Vengeance hit the Miller imagery harder than Miller has in the last twenty years, and that's okay, because it makes for a fun few issues.  I like sampling the various variations.  The main story isn't splashing over into the books I regularly read.  For a big summer event, I liked it.
No, the thing that left me initially unimpressed was the idea that the entire DC universe gets rebooted at the end of it.  Yes, when I hit the ground in comics, I hit the ground running.  And yes, I have thirteen boxes full of comics to prove that.  And yes, I just gave away an entire shortbox full of kids comics to my mom to cut it down to thirteen boxes.  But – I haven't been reading that long in the grand scheme of things.  And in that time, the entire DCU has been rebooted at least twice.  The idea of another reboot just left me feeling tired.
But, true to form, just when I thought I was out, comics pulled me back in.  This re-boot is going to be a little re-bootier than usual.  It seems that DC, conscious of new readers being too intimidated by the mountains of continuity to pick up a single title, is going back to issue one, and trying for an iconic version of DC.
This means one of two things.  Either this one will stick a little more than usual, or it will be gone in a blink, leaving only even more confusing continuity in its wake. 
I hope for the former.  The last few decades of ultra-grim continuity have left me feeling a little poorly towards comics in general.  A clean slate, free of tragedy and its attendant moping, might be nice.  I feel like it would be good to step into a DC universe where not every single character has violently lost a child.  (Batman, Superman, Green Arrow, Aquaman, Arsenal, Wonder Girl . . . I'm sure there are more, but I can't take thinking about it.)
So here's what I am scanning the headlines for:
1.  What happens to the Batfamily in general?
Well, of course I am.  I'm still me, aren't I?  And I like most of the Batfamily the way it is.  I like Jason Todd (shut up) and Cassandra Cain and Stephanie Brown, and Damian (as a side character), so I'm hoping DC won't lose them completely.  And yes, I saw that Barbara is Batgirl and written by Gail Simone.  I've gone on record with my opinions on Babs returning to Batgirl before – but I'll do it again.  It's a terrible idea, a regression for the character, and eliminating one of the most original characters in the DCU.  And I love it.  It's Babs, and Babs is my favorite character, and I love Batgirl too, and I don't care about anything else.
2.  What about the Blue Beetle?
It hadn't occurred to me that anything would happen with either Blue Beetle – neither right now seems like a big enough character to be messed with.  I'd love it if they were both back, but I'm the 'more is more' persuasion of fan.  Which is why I have thirteen boxes of comics in my house.
3.  Lian Harper must live!
It was a creepy story and depressingly generic turn for the Arsenal character to kill off his kid and have him turn 'dark'.  The overall story was so distasteful that it put me off reading comics in general for weeks.  A big re-set for the universe would be a good way to erase that.
Similar Posts: