June 27th, 2011 by
david brothers
| Tags:
akira
,
katsuhiro otomo
stuff i made
–I got quoted on HuffPo about Green Lantern
–Writing about Akira for ComicsAlliance, making all you other websites look bad
–something something captain american movie stand for france
–something something hal jordan bomber jackets
–somethings something bomber jackets part one point five
–who let all these frigging bomber jackets into my digital comics
---
something i like
This is a minor aspect of the text, perhaps, but I say it is still significant because this is my blog and my Akira website. (Join the webring.)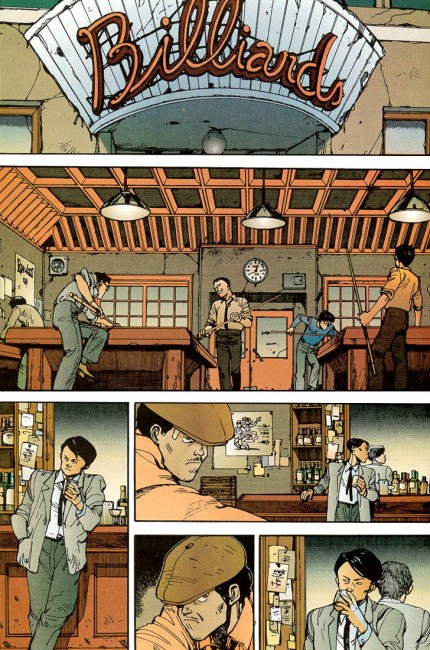 I'm about 9500 miles too far away and twenty years too late to want to wear most of the clothes in Otomo's Akira
, but I do enjoy his sense of fashion. Characters tend to be grouped into demographics and dress accordingly–twentysomething men rock button-ups and ties, military men wear suits, and teenagers dress casually or for biking.
It's sort of a throwback, but the billiards scene up there? That makes sense to me. It's a bunch of guys who are fresh off the job and looking to de-stress after a long day. Loose ties and rolled up sleeves, right? The man still wearing his jacket still has his collar buttoned up and tie straight. He looks out of place, doesn't he? He does. And later, in another bar, he's figured out how to blend in. Big smile, sleeves up, jacket in hand.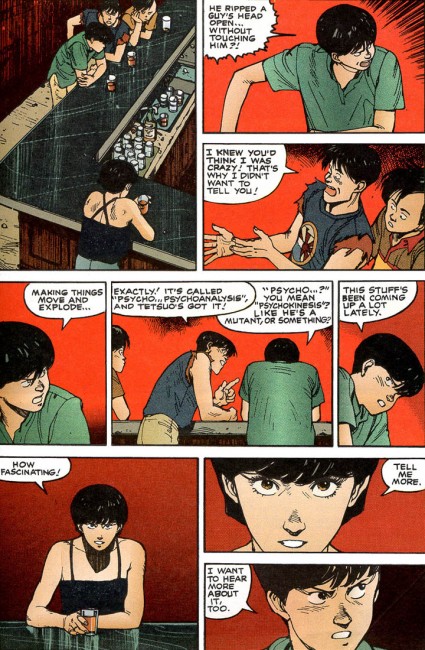 I like this bit, too. Otomo's good at picking outfits that make you think, "Yes, this character would wear that." You can't see it, but Kai's polo is tucked in. It's partially buttoned, too. Kaneda's isn't, and when we first see him in that green shirt, he's working on his motorcycle. What's the point of tucking in your shirt if you're doing work? It's just going to come out, anyway. And Yamagata, delinquent to the core, is rocking a cut-off sweatshirt over a cut-off t-shirt. Nah, son.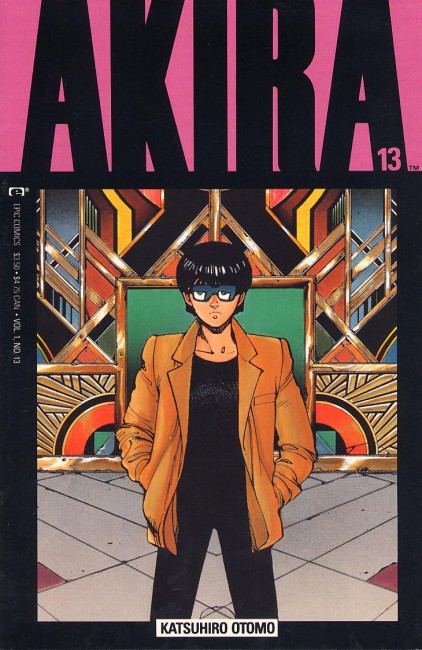 Kei is interesting. I like this jacket and black on black outfit she has. It's sensible, but the glasses make sure that it's still a little secret agent-y. Her halter top fits her personality, too, in the same casual way that Kaneda's shirt fits his.
The Colonel has an interesting progression. He's in very severe suits for the majority of the book, and then the apocalypse hits. His gear becomes much more obviously military in nature, despite the ragtag and piecemeal appearance of it. While others are wearing ripped clothes and pants, the Colonel's got clothes that let him hold things. They've got pouches and pockets, they're heavy, they're thick enough to hide stuff…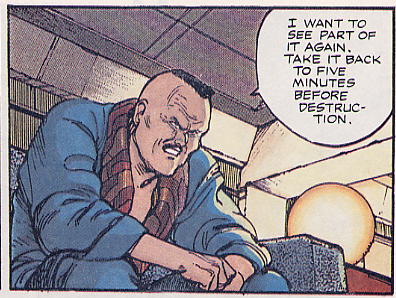 But yo, check out what the Colonel wears when he gets a late night phone call. Look at that robe, man. What a classy dude. Nobody should answer a video phone shirtless. (He throws a suit on before leaving the house later that night.)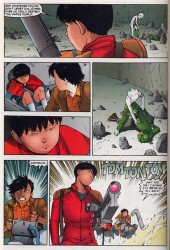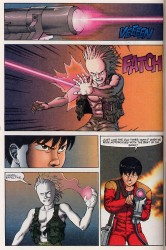 Otomo is the king because panels 1.1 and 1.4 on these two pages. Tetsuo is putting on these clothes. How often do you see that, man? It's not even a cool "SUITING UP FOR ACTION RARRRR" joint. He's just chilling in the background, puttin' on some pants.
Tetsuo is… he's not pretending, exactly, but he's definitely playing a role for the majority of the story. "This is what a man is, this is how power should be used," etc etc. Does that make sense? Viewed in that light, his various outfits click. He wears heavy riding gloves (which he doesn't even use) and a tank top while leading a motorcycle gang. He wears this all white thing with a red cape for a decent portion of the book, sort of as a symbol of his #2 nature to Akira. His outfit is plain, while Akira gets a nice blue.
And this tactical vest and pants… he's got no reason to wear that. They just look good. They're a symbol of conquest and power, since he's taken the outfit off a soldier he killed. This is just some straight up Arnold Schwarzeneggar swag, something that lets you show off what makes you strong and look ill at the same time.
It's also an expression of humanity, because Tetsuo is teeter-tottering between complete and total ego death due to his powers and holding it together, but that's a post for another day. (Wednesday?)
Similar Posts: