April 29th, 2011 by
Esther Inglis-Arkell
|
So apparently there was some Wolverine storyline in which evil demons got into Wolverine's brain and members of his team had to get transported into a physical representation of his mind in order to kill the demons and free him.  Hilarity ensues, including the following scene: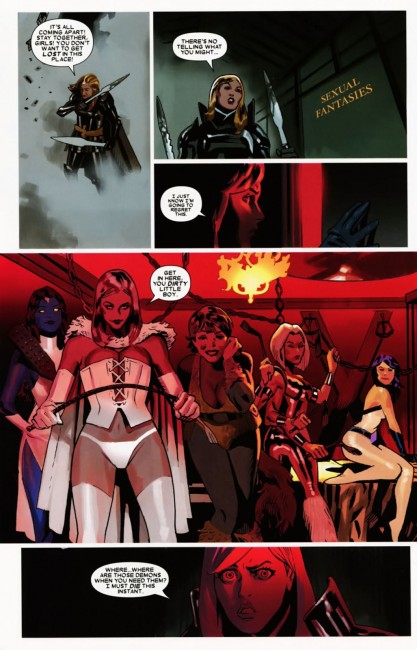 This scene made it over to scans_daily, where people reacted thusly:
…That's it? Those are his deepest, most secret, rawest sexual fantasies?

Jeez. 13-year-old fangirls publicly come up with far dirtier stuff than that all the time.
Well, I'm not sure about the exact age, but it's true.  I don't even read Marvel, but I know that doesn't scratch the surface of what is out there written by women.  Reading it I have to say I rolled my eyes a little, but then I had to look at my reaction.
One major thing about this scene is, it's a woman looking at it.  And the woman's response is, "I must die this instant." 
That moment brought me back to, I kid you not, The Devil Wears Prada.  Yes, I saw that movie.  In the movie, Anne Hathaway (the soon-to-be Catwoman), plays a serious journalism student who goes and gets a job at a fashion magazine, and is roundly mocked by Fashion People.  The running gag is this: She's fat.  Any of you can google a picture of Anne Hathaway right now.  Even for an actress, she's very slender.  And the people making the various fat jabs were fatter than her.  They weren't objectively fat.  They were also slender.  But they were fatter than Anne Hathaway. 
There had to be someone who noticed this somewhere between script and screen, and you think these lines would have been re-written, just the same way a movie filled with jokes about a character's blue eyes would change the line if the actor playing the character had brown eyes.  But no one changed the lines.  So a theater full of people, presumably none of them blind, saw several actresses look at a visibly skinnier actress and call her fat.  The jokes made no sense, and yet they stayed in the movie.  Why?  Because they were Fashion People and she was Regular Jane, and so she had to be fatter than they were – even if the entire audience's eyes were telling them that she wasn't. 
This is what that scene feels like.  It's pretty much beyond dispute that the ladies like the weird, or know the weird, or at the very least expect weirder than that from Wolverine.  I don't read Marvel so this lady might be particularly restrained.  (Although, if she is, why is she looking in a door marked 'sexual fantasies'?)  It just seems like that has to be her reaction.  Wolverine is the hard-bitten hero who's been everywhere, done everything, no-nonsense, man of the world.  He's the guy with the Dark Side.  The animalistic member of the X-Men.  He has to have fantasies that shock people, no matter what.  So she's shocked.  Otherwise Wolverine's identity doesn't work.
Similar Posts: