February 16th, 2011 by
david brothers
| Tags:
cipher
,
Colored Commentary
,
jonathan hickman
super magic black origin freshly out of dopeness
created:
How come people keep saying that
Heroes for Hire
is a bite of
Birds of Prey
? The gimmick is completely different, the cast rotates instead of having a core of girl power… I don't get it, honest I don't. But whatever whatever, here's some stuff what I wrote:
–some breakdowns of some mutants from some movie at Moviefone
–a quick look at Marvel's Heroes for Hire
---
definitely out of dopeness, sketch another opus
consumed:
How funky is Janelle Monae's
The ArchAndroid
? It got snubbed hard at the Grammys, but that's life, I figure. Short post today, 'cause things are blowing up.
-via Angie Wang comes a fascinating game. Here's what she said about it when she linked it: "An affecting wordless game where your anthropomorphizing tendencies towards inanimate objects will reward you" and here's the link: http://www.the-end-of-us.com. I liked this a lot. Play the game all the way through (it's as long as a song) before scrolling down to read about it.
–This Jeff Yang piece about how multiracialism is redefining Asian identity is pretty interesting. I wonder if there's a parallel in the evolution of black racial identity? Like, at some point, your great great great grandparents are straight up African or Haitian or whatever American, and then by it gets down to you, you're just sorta… black american. That doesn't mean that you're not Nigerian or Somalian or whatever, but that you have more to pull from than just one mother culture. Does that make sense? It's not a diluting so much as it is an evolution and adaptation. I haven't given this the time to percolate that it deserves, but Yang's piece brought up a lot of really interesting questions I need to answer for myself.
-It also made me think about fusion cuisine, which I generally think of as being wack but is almost definitely something that you'll see more of when you hit the family reunion bbq and there's all types of sushi and collards in casserole dishes and fish, hot dogs, burgers, and hog maws on the grill.
-There'd still be just kool-aid and lemonade in the jugs, though. Everybody loves kool-aid and lemonade.
-Guess who's hungry right now.
-I'm feeling like Ghostface in "Shakey Dog". "Fried plantains and rice, big round onions on a T-bone steak, my stomach growling, yo, I want some."
-More colored commentary, this time courtesy of C-Rayz Walz and The Angel & The Preacher:

-via Ron Wimberly comes a gang of super dope James Bond novel covers. Diamonds Are Forever is great and Octopussy is creepy. It's slightly nsfw on the sidebar (pulp covers got pretty rowdy), but you can't see nothing so tell your boss to get deez nutz if he tries to say something.
-JM Ken Niimura, artist of the undeniably dope I Kill Giants, has a webcomic called 514H. I dig it–a little funny, good panels, nice colors. What's up with not having an RSS feed, though?
-More Jog on Ditko.
-I dig this belt from The Hundreds, but only in black. They've got a store in SF. I might pop by and see about picking it up. I went from having regular belts as kids, with loops and holes you had to punch out, to woven belts in high school, and now all I rock are these types. I thought they were called golf belts, but whatever.
–Joáo Lemos is an ill artist. He did the only story I dug in that Wolverine 1000 joint Marvel put out, a collabo with Sarah Cross. I hope this guy gets more and more high profile work.
–People recreating old photos. I think this is good staging + Photoshop? Regardless, this is a fantastic project. I don't think I can even pick a favorite, though the ones that span like thirty years are pretty awesome.
-The Grammys were a joke when it came to rap. They picked the laziest, safest rap albums to award. Eminem's Recovery winning over The Roots's How I Got Over
is jokes.
-ANYway, there's also Record of the Year awards, which prompted this: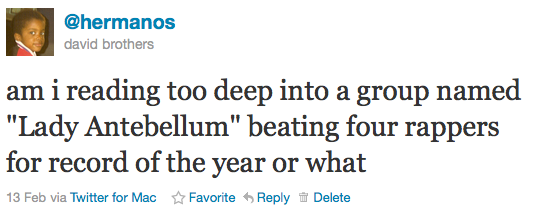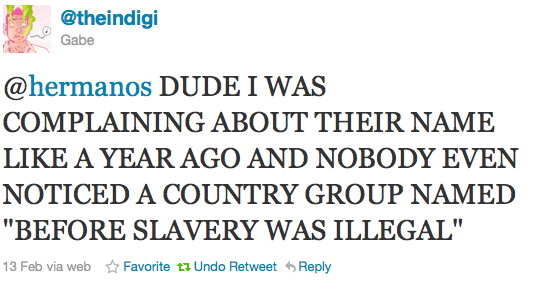 -Four out of five songs nominated for Record of the Year were rap joints. Em and Rihanna's "Love the Way You Lie" (straight), Bobby Ray and Bruno Mars's "Nothin' On You" (good), Cee-Lo's "Fuck You" (aight, but y'all ran that one into the ground instantly), and Jay-Z and Alicia Keys's "Empire State of Mind" (one of Jay's best, I guess). The fifth song is Lady Antebellum's "Need You Now." Now, silly me, I figured we'd get a rap win.
-Four rappers. One country group named after nostalgia for back when nigras knew their place won.
-Really though? That's pretty doggone suspect.
-The next Damon Albarn Appreciation Society post might be a little mean. A preview: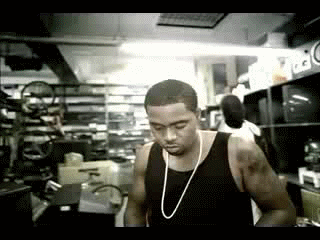 -Speaking of mean… Jonathan Hickman and Dustin Weaver's SHIELD would be an ill comic if it were about something other than how unbelievably awesome white dudes have been throughout history. I mean, dang, can't I at least get an Arab mathematician or Chinese dude as an actual character? Only white guys did anything of substance over the past however many thousand years and next few hundred years? I feel like I'm asking for one rib over here.
---
knock off your set, BROOKLYN we keep 'em open
David:
Hellblazer 276, Thunderbolts 153
Esther:
Yes:
Superman/Batman
81,
Tiny Titans
37
Perhaps, if Damian is really funny:
Supergirl
61
Possibly, if it looks decent:
Young Justice
1, although it's stupid that they made Robin Dick and not Tim. Tim's been around for twenty-two years! That's at least twice as long as the show's target audience has been alive. Come on, people!
Gavin:
Booster Gold 41, Green Lantern Corps 57, Green Lantern 62, Darkwing Duck 9, Amazing Spider-Man 654.1, Avengers Academy 9, Deadpool MAX 5, Hulk 30, S.H.I.E.L.D. 6, Thunderbolts 153, Uncanny X-Force 5
Similar Posts: