February 23rd, 2011 by
david brothers
| Tags:
bhm11
,
Colored Commentary
,
jeremy love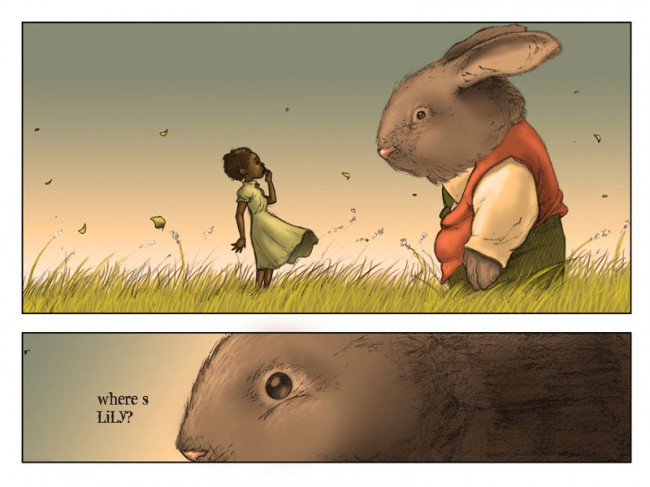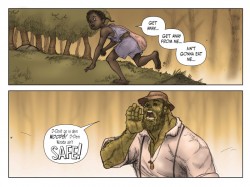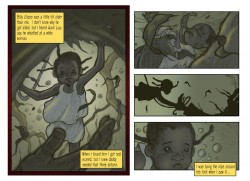 (colors by patrick morgan)
Jeremy Love
Selected Works:
Bayou
, Bayou Vol. 2
To hear my education growing up tell it, "black history" means a few tools in Africa, slaves, Martin Luther the King, and the LA Riots. And those are about uncultured savages, severe emotional trauma that you must never mention, the right way to be black (peaceful, of course), and uncultured savages, respectively.
I had to do the rest of the legwork on my own, and I didn't find many stories about slavery times, or that period after where American terrorism ran wild. I don't know why–maybe the time period is sacred? "This is our suffering, don't trivialize it?" Everything was very somber and serious and offputting, Beloved
included.
Jeremy Love's Bayou is something I'd wanted to see for a while. It's a straight up fantasy tale set during (an alternate version of) one of the most hateful periods in American history. It deals with that aspect of the history, it takes it head-on in fact, but it doesn't wallow in misery or black pathology. Love just takes a setting that's rife with potential and creates a good story out of it.
No stories or periods of history or whatever whatever are sacred. Everything has the potential to be a good story, no matter how traumatic or damaging. It's just a matter of being willing to look at an old wound in a new way, and finding a different way to exorcise, or examine, that pain. I don't believe in sacred cows. I'd much rather read stories where black people of any time period have fantasies and adventures like everyone else over stories about how awful it was to be black back then (or now, word to Precious). I've got history books for that.
Similar Posts: