December 2nd, 2010 by
david brothers
| Tags:
ann nocenti
,
Colored Commentary
Here's the bio of the only black American Girl, Addy Walker, created in 1993: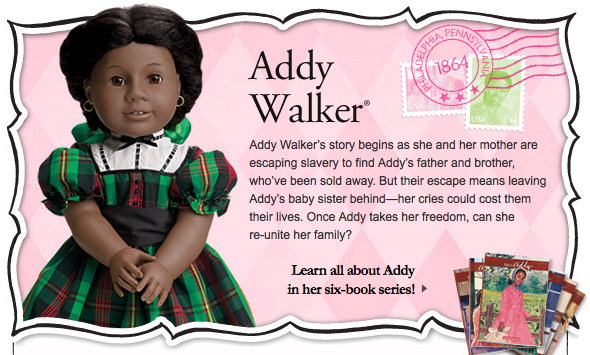 The novels were written by Connie Porter, and she ended up doing eleven of them over the course of ten years. And I get it, I really do–if you want to show that a character that has courage and the ability to overcome circumstances, an escaped slave is pretty good.
I just can't imagine ever wanting to buy something like this for anyone's daughter. It's gross, it's another reminder that being black in America sucks. It's like the news pieces that told me I'd be more likely to be dead or in jail by twenty-five than to make something of myself, that rap music was poisoning my little colored brain, or that I'd be a bad person because I came from a broken home. It's the same thing that made me a credit to my race as a child because I was smart, rather than smart, period.
I mentioned this on Twitter, and Ron Wimberly hit the nail on the head when he said, "Yeah, it's kinda bugged. but really, what's new?"
Listen to this for the next couple minutes while you read this post. It's Gil Scott-Heron's "On Coming From A Broken Home Part 1," and it is deeply relevant.

David Wolkin is a friend of mine, and we had a conversation a while back about the portrayal of Jews in cape comics. He made a very strong point that it tends to revolve around shame and guilt and the Holocaust, often at the expense of any other possible subject matter. Gotham Central has a Jewish guy who usually appears just to talk about kosher donuts and persecution, rather than, say, anything else.
It's similar to blacks in cape comics, where they are either from the hood, pretending to be from the hood, inexplicably spending time in the hood, or, in the case of Storm, who I like less and less on a daily basis because her history is disgusting, actively separated from and placed above the hood, because colored folks, am I right, fellas?
It's all about narrative. It's storytelling. Whether through laziness or malicious intent, this is what we get from pop culture and the media. Jewish characters get to come to terms with the Holocaust or their own Jewishness. Black characters get to talk about how there's no justice, just us (a phrase that, if I ever had to say it aloud, would make me blow my brains out). It's the same garbage, day in, day out. "Remember this horrible thing your people have gone through? Well, as far as we're concerned, it's the only fuel that matters to our storytelling engines. Don't worry, we won't let you forget or ever progress past it."
Another example? "Look at how weird this thing from Japan is!" Chip Kidd, author of Bat-Manga, indulged in it when he touched up translations in the book to "We are certainly not trying to make fun of the Japanese grasp of English, but at the same time, here and there we wanted to preserve its undeniable charm." That's the narrative about Japan: It's cool and different and weird and charming. Which is patronizing and ignorant.
Wolkin is doing this thing he's called 8 Days of Wolkin and one of his posts is about a recent issue of Ragman. Stick with it all the way through, because it flashes into something else partway through. It's good, and he talks about the stories we tell ourselves, or allow ourselves to be told, in the post. He's also got a killer line about the intro to All-Star Jewish Superman.
This is the kind of thing I think that it's important to be cognizant, and wary, of when consuming culture. It's always deeper than what's on the TV or in comics. A lot of cape comics are unbelievably basic and unwilling to grow up, and this is the sort of pap we're fed nine times out of ten.
Put shorter: there are more stories to be told, so stop telling these tired old tales.
One of those other stories can be found in Ann Nocenti's "Goudou Goudou" series on HiLoBrow. She's been teaching film in Haiti for a few years, and now, after the quake, she's still at it. It's a nice counterpoint to the almost pornographic attention to the death and destruction that we got shortly after the quake and the deafening silence we've had since.
"Goudou Goudou" isn't about how awful life is in Haiti right now. It's about the things her film class has seen, her own reactions to them, and the people of Haiti that she's met. It's like catching a glimpse of someone's life through their open window, rather than digging through their trash for goodies. There are three out–one, two, three–and they're all good. They roll out weekly, and you can grab the RSS for just her posts here.
I've talked before about how Nocenti is one of the most interesting comics writers ever, mainly here and here. I still think she beats the pants off all but maybe two or three writers working today. But at the same time, it's really nice to see that she's a good journalist, or just plain writer, really.
Long story short, screw Storm and be careful what you put into your head. Don't believe the hype.
Similar Posts: