September 29th, 2010 by
david brothers
| Tags:
flex mentallo
,
frank quitely
,
gamble a stamp
,
grant morrison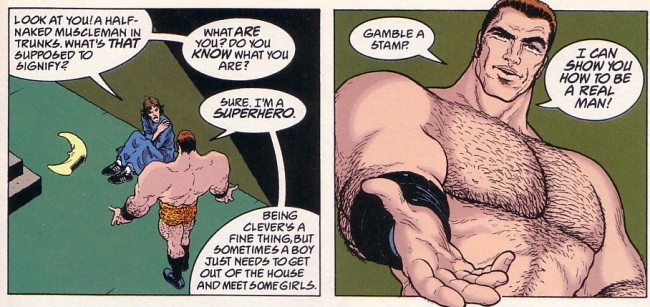 I think that if you are a fan of superhero comics, Grant Morrison and Frank Quitely's Flex Mentallo should be your holy book. It caused a seismic shift in my enjoyment and understanding of superheroes after I read it, simultaneously deepening my enjoyment of the good stuff and my willingness to ignore the terrible. It's a story, it's comics journalism, it's a history lesson, it's evergreen, and it is auto-critique in pamphlet form. It's about comics, you see, and if you haven't read it, you should. This is part of a series of posts relating to the book.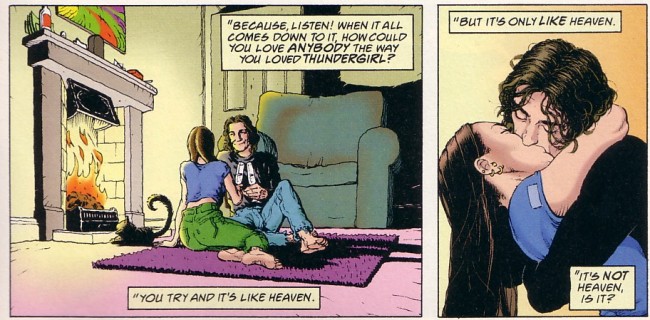 At one point in the book, Sage says, "Because listen! When it all comes down to it, how could you love ANYBODY the way you loved THUNDERGIRL? You try and it's like Heaven. But it's only LIKE Heaven. It's NOT Heaven, is it?" It's one of those points that stuck with me after reading, kind of like "Sometimes her cigarette smoke smells like flowers" from Brandon Graham's King City carved out a space in my skull.
A teen in the throes of puberty and wishing for a Mary Jane Watson of his very own isn't wishing for a real girlfriend. He's looking for someone who resembles the stories and beliefs that he has built up around Mary Jane. Maybe she likes his favorite kind of music, has a certain cup size, or will do all those nasty things in bed that he's been curious about.
What can compare to that? The only possible end point of that is disappointment. No matter how much you love someone, no matter how heads over heels they are–they'll never be Mary Jane Watson, tiger. You can't build a lover out of ideas. And yes, on the very next page: "What's like Heaven? Shit. Oh shit. They fuck you up, those comics. They really fuck you up…"
Just like romance movies, fairy tales, sitcoms, and every other thing that tells us how life is before we get to experience it ourselves, superheroes sell us a reality that only works with archetypes. Every romance is an atom bomb of passion or strife. Lovers embrace against all odds and damn the consequences. No one gets to settle for someone they didn't want or to be content with somebody who is just okay. Love triangles aren't a ball of stress and drama so much as an entertaining diversion. No one comes home, hugs their wife, and goes to bed early. Everything is larger than life. Superheroes go hard or go home. There is no in-between.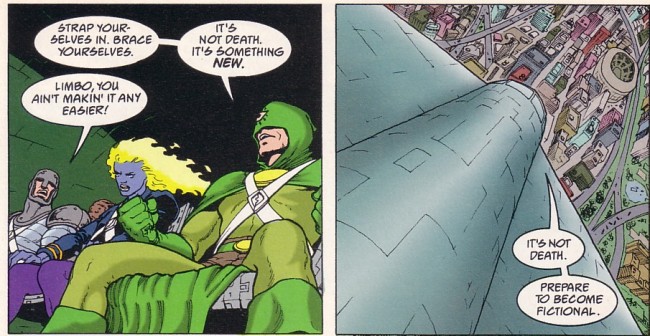 At the same time, this is the strength of superheroes. Superheroes exist as archetypes that have been drawn from the same collective unconscious that has been creating stories about heroes for thousands of years. They represent abstract or unquantifiable values–responsibility, vengeance, altruism, guilt–and work out our insecurities and fears on the comics page. Spider-Man insists on a world where people take responsibility according to their ability, no matter how marginal. Batman is about emerging from darkness, away from your baser instincts, and into the light. Superman is a father figure, there to protect us from all possible harm and guide us on our way.
One of the points of Flex Mentallo is that superheroes exist to save us from ourselves. They provide an example for us to follow and embody the best aspects of human nature. They represent the hole that's present in reality, the thing that's missing that resulted in the world being in the shape it's in. They're the memory of a better time.
Flex provides a reason for comics to traffic in the stories that they do. The superheroes exist outside of the comic books, having escaped from their doomed reality by becoming fictional in ours, and live in our imagination. The comics are an attempt by the superheroes to show us what things could be like, if only we tried a little harder.

Sage's feeling about Thundergirl and love–it's not just about love. It's deeper than that. It's about archetypes, period. Your father may make you angry and let you down. Your friends may betray you. But, when you get down to it, Spider-Man will fight to the death to save you. Superman will always be there with a kind word when you need it. His stories and his reasons for being don't change.
This is the power of superheroes. They touch on something deep inside us, whether as adults or children, and show us something we need to see. This is one of several messages in Flex Mentallo, and it's one that places superheroes on a direct level with every other story. They represent something bigger than themselves and better than us.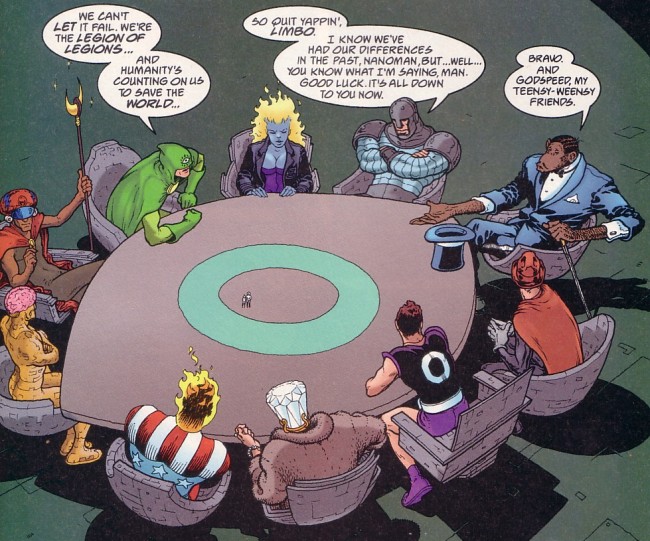 How could you trust anybody the way you trust Superman?
Similar Posts: