June 9th, 2010 by
david brothers
| Tags:
cipher
,
frank quitely
,
grant morrison
,
milestone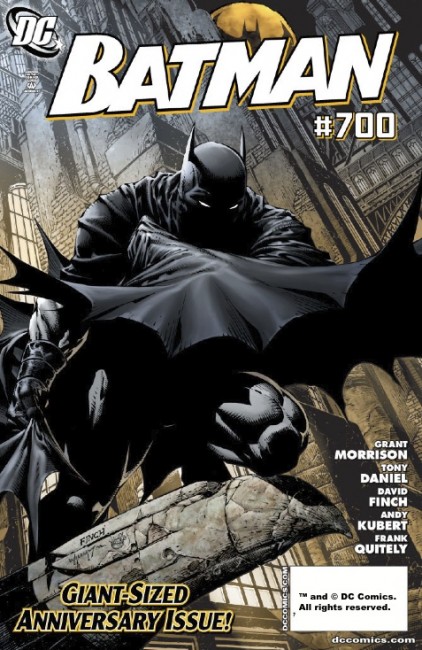 batman 700: words by grant morrison, art by frank quitely, tony daniel, andy kubert, and david finch/richard friend.
Down at the labor camp, they make a drone of men, mama's boy once, but now I've learned to speak draconian!

ELDash
el-producto
I was thinking about picking up Batman 700. Morrison hasn't been hitting for me like he should lately, but Quitely's always worth a look. I was even willing to look past buying a book with art by Tony Daniel and David Finch, two of my least favorite artists. Except I read the PDF preview on DC's site after David Uzumeri shot me a link and had all my goodwill sapped right out of me. For five bucks (!) you get eight Tony Daniel pages, nine Andy Kubert pages, six David Finch pages, and somewhere between one and eight Frank Quitely pages, with the difference being made up by the certainly-capable-but-not-Frank-Quitely Scott Kolins. For those of us who went to public school, that's thirty-one pages for five bucks. Add seven pages of pinups (Shane Davis, Juan Doe, Guillem March, Dustin Nguyen, Tim Sale, Bill Sienkiewicz, and Philip Tan) and a couple pages of Batcave layouts by Freddie Williams II and you've got a book I don't think I want any more. Five bucks? Get real.
Great art + great story = comics worth buying. That's the rule.
I know I'm picking up Captain America (Ed Brubaker/Butch Guice) and Heralds (Kathryn Immonen/Tonci Zonjic/James Harren). Amazon just emailed me to say that Icon Vol. 2: The Mothership Connection
is on the way. That's a Dwayne McDuffie joint. I'm not sure which artists are involved, because it's an odd mix of Icon issues. I know the Buck Wild stuff is in there, though, which means we get some Doc Bright. I'm psyched to reread it.
Shame about there not being any other Milestone books on the schedule, though. I've got the two Icon volumes, the Brave & the Bold: Milestone book, and the Hardware and Static trades. With the exception of the JLA trades that reintroduced Milestone (which I didn't buy because every time I look at them I want to fire shots DC's way) (don't forget industry rule 4080) I think that I own all of the currently in-print Milestone books. We're missing Xombi, Blood Syndicate, Shadow Cabinet, Heroes, and a few odd miniseries or one-shots. Wise Son and Milestone Forever. C'est la guerre, I guess.
What're you folks buying, or not buying, as the case may be? Any trades you wish happened? I'd kill a man dead for Flex Mentallo, and I may be adding "more Milestone trades" to that list.
Similar Posts: