December 18th, 2009 by
Esther Inglis-Arkell
| Tags:
alfred
,
DC comics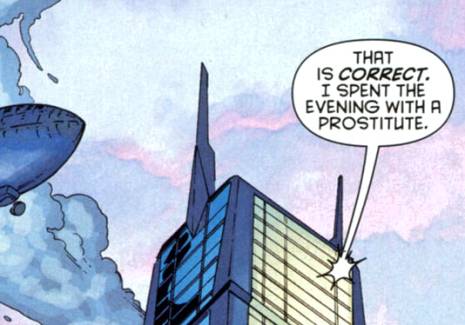 Yes, he did. 
No, not like that.
Of course.
This panel is from a story in the Batman 80-Page Giant issue that came out on Wednesday.  In  it, Alfred picks up a hooker who looks to be in her late teens or early twenties.  He takes her out to a fancy party, while she's still in her street wear.  People talk, Alfred makes a scene defending her, and they get kicked out.  He suggests they go up to a room.
There's a panel in which the girl is in the bathroom, freshly showered and in a towel.  She's looking at herself in the mirror saying, "You can do this," while Alfred, visible through the open door but turned away from her, sits on the bed in the main bedroom.
Then she comes out in full snow gear (boots, pants, sweater, gloves, had, scarf), and he tells her she looks wonderful.  They go to the bus station, he tells her that he has had her criminal record erased and puts her on a bus headed for home.
The story should work, but it doesn't.  Not quite.  And the reason it doesn't is in that first panel.  There are plenty of comics that make it look like something morally questionable is happening, only to reveal the character's noble intentions, but by leaning too hard on the double meanings, this story buries its own point.
The point is that Alfred is trying to do right by this girl.  He's insisting that people treat her with respect and give her a chance to shed her past.  But that's not really happening in the story. 
A respectful person doesn't take a woman to a party when he knows that she'll be ridiculed there.  Alfred can afford a dress for this girl, and has clearly shopped for her.  Still, instead of letting her wear something appropriate, he exposes her to ridicule.  Fighting for the girl's honor doesn't ring true after her deliberately brought her somewhere she'd feel self-conscious in inappropriate dress.
Then there's the matter of Alfred sitting on a bed with the door open while a girl showers in the next room.  I can count on one hand the number of times Alfred has sat down in a chair on panel.  And I can't imagine he wouldn't close the door when a girl was changing in the next room.  But they need to make it look like something might happen, so they make him do something out of character.
Then there's the last scene, in which Alfred announces that he spent the night with a prostitute.  This is a page after he told the girl that she didn't have to worry about her old life catching up with her and she could have a 'fresh start.' 
The story follows the letter and not the spirit of this character's code of conduct.  In going out of its way to portray Alfred as gentlemanly, it keeps him from being a gentleman.
Similar Posts: