November 5th, 2009 by
david brothers
| Tags:
brian michael bendis
,
garth ennis
,
green goblin
,
ms marvel
,
new avengers
,
norman osborn
I wanted to revisit and expand on the "HEROES DON'T KILL" post from yesterday, since it prompted some conversation.
My biggest problem with HEROES DON'T KILL as a hard-line rule is that it stems from the days when comics were meant for children and suffered under the tyranny of the Comics Code. Heroes must be pure and heroic at all times, and killing was right out. For children, that's fine. Simple morality tales are an easy way to introduce the social contract. What's racism? Racism is bad. What's war? War is bad. And so on.
The problem is that comics grew up with their audience, and writers started stretching the limits of believability in an attempt to appear grown up. Every time a villain broke out of jail, he'd have to do something worse to top the previous story. Joker evolves from the Clown Prince of Crime to the Thin White Duke of Death, and every breakout spreads death and decay by the dozen. Norman Osborn goes from a guy who killed a girl once and wanted to run the underworld into a scheming plotter capable of faking several deaths, ruining even more lives, and torturing whoever he likes.
At a certain point, in the quest to give heroes something to fight against, the creators of these comics have made the heroes look like failures. Batman: Arkham Asylum, the recent video game, is an excellent example. No matter what he does, or who he rescues, nothing he does matters. You can idly rescue a couple of asylum patients and workers in the game, but when you re-enter that area, whoops, look at that, they're dead. Sometimes you get there in time to see an inmate beating their brains in, but it's too late to save them. It makes Batman look inept, like all he can do is stand there in his long johns trying to hold back an unstoppable tide of pure evil.
It's not any better in the comics. Villains break out of jail, murder a few people, go after the hero, and then go back to jail. Eighteen of our months later (if we're lucky, and we usually aren't) and they do it again. And again. And again. The body count rises, the hero thinks about all the lives that have been lost and feels bad about it, and then does the exact same thing again. Lather, rinse the blood off your hands, and repeat.
What's even worse is the sliding scale of acceptable killing. Sentient beings from computer monsters to aliens? Murder at will. However, a guy who has, over the course of maybe six months at most, shot down an airplane full of civilians to see if a hero would catch it, ordered the death of several American citizens, hired mass murderers and villains under false pretenses, engaged in military actions in foreign lands, and placed scads of people who are loyal only to him in various sensitive places in the federal government? That guy is strictly off-limits.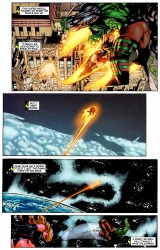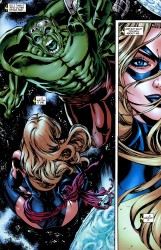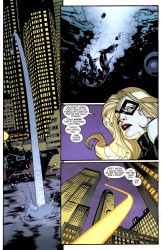 See? Ms. Marvel is three things here. Creepy, smug, and a hypocrite. Why is it okay to kill aliens and not humans? Is that where "Thou shalt not kill" stops? "You weren't born in Peoria, you're fair game?"
It's the hypocrisy that bugs me more than anything. When Hawkeye says that the Avengers should kill a man who has killed Spider-Man's girlfriend, kidnapped his child, ruined the life of a good friend, created a vicious cycle of hate that infected Peter's best friend Harry and his son, faked Aunt May's death, and tortured Spider-Man for days… Spider-Man's reaction, realistically, shouldn't be to whine about how heroes don't kill ever ever ever no matter what.
I'm not saying that all heroes should be bang bang shootem up all the time. That's stupid. There are several perfectly good reasons not to kill someone, and killing would ruin the charm of certain characters. I don't think Superman should ever kill anyone. Spider-Man, as the ultimate street level everyman hero, probably shouldn't kill anyone, either.
(though back when i cared about that sort of thing, i realized that the one instance where spidey would kill would be if and when norman snaps, kidnaps MJ, or maybe Baby May, and it's his last choice. he'd do it, and he wouldn't feel good about it, but he wouldn't regret it, either.)
But, to pretend that heroes should never kill, while their enemies continually up the ante and stack atrocity on top of atrocity and shoot past irredeemable and on into genocidal… you start to notice the guy behind the curtain. That's when you realize just how the sausage is made and start caring less and less. Black Adam has millions of deaths on his resume. Vandal Savage destroyed Montevideo. Deathstroke's blown up Bludhaven, and, along with Cheshire, nuked the capital of Qurac. Mongul destroyed Coast City.
At some point, you have to weigh your peace of mind and so-called moral high ground against thousands upon thousands of lost lives. And sometimes… it's worth the sacrifice.
And that's why the hard-line HEROES DON'T KILL is childish to me. It's applying a black and white morality to a situation that doesn't fit it any more. Back when Spider-Man was created, Doc Ock was killing people mainly by accident. Green Goblin just wanted to run the mob. Now? Now villains completely undercut the hero by simply existing, and every time we get one of the "I'm better than you, I don't kill" scenes, or the scenes where the hero fights hard to save a villain's life so that he can sleep soundly at night… well, I roll my eyes.
All I want is to see some nuance and maturity when taking on the idea of heroes killing, rather than heroes with barely a leg to stand on preaching directly at me. It's not clever, it's not smart, and we're not children. Garth Ennis got it with his portrayal of the Punisher. It's not even hard or really very complicated. Sometimes, the hard choice, the bad choice, the unreasonable choice, is the best possible choice to make. Sometimes you have to do bad to do good.
Similar Posts: