August 16th, 2009 by
Esther Inglis-Arkell
| Tags:
DC comics
,
titan books
Solicit for the November issue of Titans under the cut: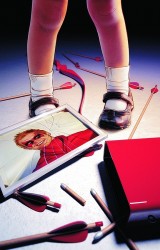 TITANS #19
Written by J.T. Krul
Art by Angel Unzueta & Wayne Faucher
Cover by Angel Unzueta
            It's not easy being a dad in the DCU – just ask Roy Harper, who never wants to leave his daughter Lian an orphan. Unfortunately, that choice may not be his to make…Hot off his BLACKEST NIGHT: TITANS miniseries, J.T. Krul returns for another issue!
On sale November 11 • 32 pg, FC, $2.99 US
Well, what can I say, except I've found another reason I don't like deaths.  They are no longer surprises, are they?  Was anyone surprised that Batman died?  Will anybody be surprised if Roy Harper dies?
No.  I don't think so.  People will have seen this solicit, and their reaction will be either, "Yep, he died," or "Oh, so they didn't kill him after all."  Companies have to play their cards a lot closer to the chest if they want deaths to have an impact.
As it is, all I can see this as is the most predictable of Event conventions.  Someone has to die.  Throw a dart at a picture of a minor team and go ahead.
Mostly I dislike minor character death because it never evokes a positive response.  The people who like the character are naturally saddened at their death.  The people who were indifferent to the character feel nothing.  I don't see the benefit.
Similar Posts: