July 20th, 2009 by
david brothers
| Tags:
bloody pulp
,
Colored Commentary
,
jeff mccomsey
,
jorge vega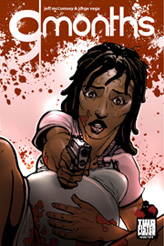 I dig Jorge Vega and Jeff McComsey's 9 Months, but I think my favorite part might be the cover. It's a simple picture, just Thomasina, knee-deep in pregnancy and holding a gun while looking surprised. Something about it manages to sum the series up pretty well. This isn't one of those books where it's about backflips and double dragon flip kicks. It's about desperation, and hard choices, and responsibility.
9 Months is, more or less, about the funny turns life takes. Thomasina went from a promising track star to being stuck in a rut. She got the coolguy boyfriend who turns out to be more of a jerk than a coolguy, she alienated her family, and now she's pregnant. Her past as a track star and present as something else are constantly put into direct conflict over the course of the first issue. Running is even used as a metaphor for why she distanced herself from her family. It was teenage rebellion, basically, but she was sure she was running toward something sustainable.
Later, covered in blood (her own and her late boyfriend's), I think she starts to realize that she hadn't. Instead, she'd forsaken what was good in her life in favor of what was flashy. When she's forced to choose between her current life and the life of her unborn child, she picks the youth and fights back, killing her boyfriend.
The problem is that her boyfriend was far from a nobody. He was the younger brother of a local big shot, and that big shot has a list of demands for Thomasina. She's going to abstain from alcohol and drugs, take her vitamins, and have the baby. After that, the bigshot gets to keep it.
The last page of the book asks "how far [Thomasina will] go to protect her child?" and answers "too far." I'm interested, because Jorge and Jeff have built a small, but realistic, cast of characters and created a way to throw them into conflict with each other over the nine months of Thomasina's pregnancy. They don't shy away from violence, but they don't dwell on it, either. It happens, it's horrible, and then you have to pick up the pieces.
I've only read the first issue of 9 Months, but I get the feeling that it's about picking up the pieces. You can check out a preview of the book here, and read the first eight pages of Bloody Pulp, Jeff & Jorge's new work over at Zuda. If you like it, vote for it. Let's see more from these guys.
Similar Posts: