July 14th, 2009 by
david brothers
| Tags:
bloody pulp
,
jeff mccomsey
,
jorge vega
,
zuda
Bloody Pulp is the latest offering from Jeff McComsey and Jorge Vega. McComsey is one of the brains behind American Terrorist, which is available now on G1 and soon on iPhone. Its subtitle says it all: "Confession of a Human Smart Bomb." Jorge Vega is the guy behind Gunplay, a book on vengeance in the Old West that I thoroughly enjoyed last year. Together, they have created Bloody Pulp.
Bloody Pulp has a few of my favorite things. It's got crime and fisticuffs, for one. The lead is John "Pulp" Polopowski, who is brilliantly described in the synopsis on the Zuda site as "a nightmare for hire." That's an inspired description, and from what I've seen of Bloody Pulp, it's true. When you need someone to be thoroughly beaten and disposed of, Pulp is your man.
The twist, of course, is that he isn't entirely on the level. He's been secreting people away to a safe house, rather than killing them. It's kind of like witness protection through a funhouse mirror, only someone might beat you to death for disobeying the rules.
The hook is the arrival of Eustace, "a Negro bandleader". The synopsis promises that sparks are going to fly due to his presence, and I've got the good word from Jorge that says he's going to dig into the race and class issues of the '30s. I'm definitely interested.
We've got eight pages to look at on ZudaComics.com. Check it out and, if you like it, vote for it on the site. As things currently stand, Jeff and Jorge are ranked #1. If they maintain that position, they get a slot on the Zuda site. The eight pages were just enough to get me interested, and Jorge and Jeff's prior work were pretty solid. I'm going to be taking a look at a couple of their books, specifically American Terrorist and 9 Months, very soon.
In the meantime, though, you need to vote for Bloody Pulp and tell your friends.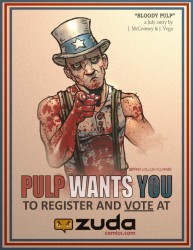 Similar Posts: