October 9th, 2006 by
david brothers
| Tags:
DC comics
,
guest article
,
jla
,
superman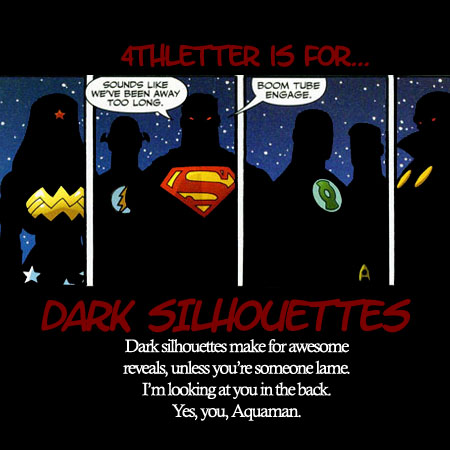 No, seriously. This can't just be me.
I love outlines. I think that they're an awesome storytelling trick. I am not a huge Superman fan, but one way to get me interested in a scene featuring him is to put him in all black with only his glowing red eyes or chest emblem visible. The chest emblem makes no sense on a lighting level, yes. I know. I was going to go to art school before I realized that I was good at words, not pictures.
But, isn't it cool?
This spread is from Ed McGuinness, JLA Classified #2, I believe. The JLA are out in our world, the real world, and have been trying to maintain the status quo. They get info from the new Squire that things have gone bad on DC-Earth. What does the JLA do?
They use a boom tube to get back to their universe.
I love it.
I don't know why Aquaman is back there, though. You can tell that Ed McG had an awesome scene in mind until he realized, "Oh, wait… Aquaman has to be in here, too! :argh:"
I am still crazy-go-nuts swamped with work. I'll deliver you guys some content by the weekend, I promise. Tomorrow, all things being equal, we'll have a guest article, or perhaps a guest reprint up from my old buddy Mark Poa. Stay tuned, true believers!
Similar Posts: