August 28th, 2006 by
david brothers
| Tags:
ign
,
jubilee
,
mark millar
,
Marvel comics
,
omac
,
superman
,
wolverine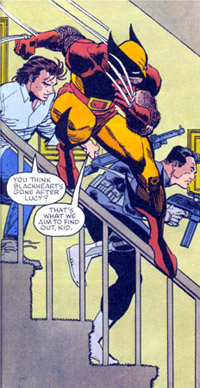 You know what's cool? Wolverine, that's what.
He was overexposed in the '90s, and up til now, yes, but listen. Gavok put it best when he said that Wolverine's problem was never overexposure, but overimportance. Wolverine was suddenly a Big Deal, and well, that kind of sucks. I like my Wolverine to be the guy whose idea of a disguise is putting on an eyepatch, a cowboy hat, and demanding that people to call him Patch. It worked.
Do you know why it worked? It worked because it was obviously Wolverine, and he was obviously insane if he thought that people were going to believe that stupid disguise. So they played along and pretended that an eyepatch was as good of a disguise as a pair of eyeglasses and a slouch. Wolverine is crazy. Do you know what crazy people do when you point out that they are, in fact, crazy? They cut you up with foot long adamantium claws, that's what!
I didn't mind the issue of Wolverine where Nitro blew up all his skin and they grew back in something like two minutes. It was goofy and stupid, but it was pure Wolverine and pure pop comics. It was that crazy action I want to see Wolverine get into.
I'll be honest. I hated Mark Millar's Enemy of the State. His dialogue and characterization were off and poorly done. But… Millar had good ideas. I'm not so fond of Wolverine Beats Up The Marvel Universe/The Hand/Everything/Superman, but having him fight hordes of ninja is what Wolverine is all about. Johnny Romita's art was on point even when Millar's story left me flat.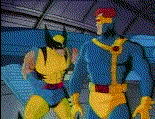 Wolverine is a guy whose gimmick is six sharp claws, a bad attitude, and a crazy healing factor. Instead of running down the stairs with Frank Castle and Danny Ketch like a normal person, he's going to SLIDE DOWN THE BANNISTER screaming about how he's the best he is at what he does, and what he does is bannister-sliding, bub, don't you ferget it! When he gets down to the bottom, he's going to oh, I dunno, punch Cyclops in the stomach a few times, call Jubilee "kiddo" or something, then go off and cut something with his claws, all the while screaming about how he is the best he is at what he does, and what he does isn't pretty/is calling Jubilee kiddo/is punching out Cyclops/eating Wheaties.
You know, this may be the reason why Marvel Comics won't return my calls. I'd write Wolverine so well that they'd have to go back and retroactively fire anyone else who ever worked on him.
Wolverine rocks, so give the poor guy a chance. There is a reason why he became so popular during the '90s. He's a good character with a neat hook. The '90s were rough on him, but they were rough on everyone.
What characters do you folks inexplicably like? We got any Shatterstar, Boom Boom, or USAgent fans in the house?
Similar Posts: