January 27th, 2009 Posted by Gavok
The Royal Rumble was last night, meaning you no longer care about anything I have to say. Yeah, well… shut up, okay?
I thought the event was top notch. Jack Swagger vs. John Morrison is going to make a very fine PPV main event one day.
The Rumble match itself was pretty good. It had a lot of fun spots, but got bogged down by keeping the ring too full. They were so determined to keep every single main eventer in the ring until the end while keeping them scattered on the card that it seemed to blow up in their face.
But the highlight of the Rumble?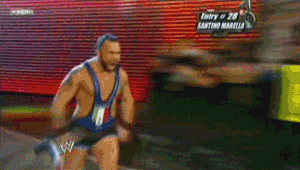 MAMA MIA!
(thanks to Jerusalem for the gif)
Let's finish this off and call it a day.