December 17th, 2008 Posted by Gavok
This is several days late, but like I've said, computer troubles. Read it anyway.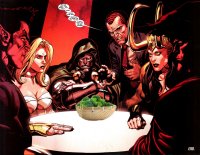 Secret Invasion has come and gone. Skrulls are old news and now the more beloved villains are beginning to step forward, forming their own little Evil Illuminati. Fittingly, they all counter the original Marvel faction in their own way.
– Tony Stark is replaced by a more ruthless businessman/inventor in Norman Osborn, who shares similar ideals on unity among the powerful.
– Reed Richards is replaced by Victor Von Doom, his eternal rival when it comes to his intelligence.
– Charles Xavier is replaced by Emma Frost, who, while heroic, could potentially do some more underhanded things to help her race. Then again, look at who I'm talking about. Xavier's done some shady stuff already. Bendis originally wanted Magneto for the role, but you know how it is for that guy.
– Doctor Strange is replaced by the Hood, the magical avatar of the Dread Dormammu himself.
– The enigmatic and overly powerful Black Bolt is replaced by the more enigmatic and more powerful Loki, now in a female form.
– Namor, once a proud king able to own the room with his regal presence, is replaced by a meeker, disheveled and more desperate shell of himself.
Norman puts together his own Secret Society concept and tries to sell it onto the others. The two main points of interest are the mystery man – which I will get to in a second – and the suggestion by Doom to Namor that this will all lead into some kind of massive supervillain Civil War in the future.
That discussion is for another time. Let's discuss the mystery man.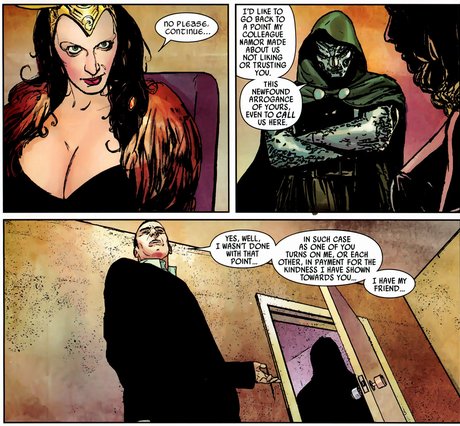 "If you so choose as to even lift a suspicious eyebrow towards me and mine… you and my friend here will have some words. Emma, you're a psychic, I can feel you poking around in my head now… You read minds… Tell me… Am I lying?"
"No."
"Something for even a goddess of mischief to think about."