March 16th, 2011 Posted by david brothers
no question
created:
I haven't talked about digital comics in what, like six whole hours? So I talked about that some, I pushed some art, and talked that Milestone talk over the past week.
–
Digital comics: either they're a threat or they aren't. You can't have it both ways
.
–Xombi 1 gets a preview. I'm writing this post late enough that I already read all my comics, and my predictions came true. John Rozum and Frazer Irving gave DC their best creative success since that issue of Batman & Robin where Damian hit Joker with a crowbar.
–Me and David Uzumeri take on Grant Morrison and Sean Murphy's Joe the Barbarian. tl;dr: I liked Sean Murphy's half of the book.
–Jonah Hex has had some ill artists.
---
ch-ch-blaow, end of session
consumed:
This has been a week of weeks, man.
Somebody needs to let me hold a number two pencil, 'cause they testing.
I'm ready for the weekend, but I can't sleep it away like I did last weekend.
-Ron Wimberly is doing Ninjaid for charity. In his own words:
On March 11th, 2011 a great earthquake struck 130 kilometers off the east coast of Oshiko Peninsula, Tohouku Japan. This earthquake caused great destruction to Japan.

My work, particularly GratNin, has benefited beyond measure from the culture of Japan.

Starting today, I will draw a GratNin (16×22.5 cm) every afternoon for the next 30 days and post it here. I will reward every donation of $35 or more made from this site, with the button above, with one of those original GratNin drawings posted or to be posted here.

The proceeds will go to Red Cross via Paypal.

thank you for your generosity.

Sincerely,
Ron
Good cause, ill art, win-win. The iFanboys have the lowdown on other relief efforts, and Deb Aoki at About.Manga has a few, too.
-I watched the tsunami footage live on Al Jazeera's youtube page the night all that went on. One of the craziest things I've ever seen.
-I really appreciate Takehiko Inoue's Smile series. It's such a simple thing, just quick sketches of mostly children smiling, but it's really nice. I dunno.
-My main homegirl, editor, and karaoke addict Laura Hudson is doing karaoke 7 days a week (actually 12) and blogging about it for the Portland Mercury. Here's the category. She's crazy, the posts are great, and I'd stage an intervention but this is awesome.
-I started watching Community. It's pretty okay. It took a while to find its legs, but now it's pretty good. I need to start season 2 pretty soon. It's at its best when it's doing straight comedy rather than romance antics, though. "Will they or won't they?" who cares

-I know I keep just barely mentioning Killzone 3 on here, but it's fascinating (and I play it a few nights a week so it's always fresh on my mind). But here's the thing. I had a game the other night where I was like 32-54, or 26-41, or something like that. I got chewed up by any reasonable standard. My kills/death ratio is like .49. But. I spent those matches having a gang of fun, coordinating with a friend to get things done, and generally taking part. I captured points, repaired ammo boxes, whatever whatever. When I'd play Call of Duty and get eaten up like that, I'd be getting mad. In Killzone, I just keep on pushing, taking L after L, but enjoying every minute of it. Even if you're getting blasted, you can still support your team, capture game objectives, and generally help get things done. This is a good thing, a tremendously good thing, and more than welcome in this genre. You can find your strengths. My strengths are running into bullets, drawing fire, and getting in-game objectives done. Maybe yours are different.
-No, I haven't gotten back to Persona 3 Portable yet. Tonight, I think. I keep starting novels, like real novels with no pictures or nothing, and read those before bed, which is my prime gaming time. Life is so hard you guys 🙁
-Pharoahe Monch's WAR (We Are Renegades) leaked the other day. I listened to it five times a row that day. I guess what I'm saying is that it's cop on sight, and I keep checking Amazon to see if the mp3 page is going live so I can buy it. I dunno if this will work or be annoying or whatever, but Monch's PR dude sent me this streaming clip of "Assassins," which features Royce da 5'9″ and Jean Grae. That's three of my favorite emcees on one track.
Assassins" feat. Jean Grae & Royce Da 5'9 by duckdown
-Here's why I listen to rap, courtesy of Nickel Nine: "You claiming that you flow like water, but y'all niggas Evian backwards." Oh my.
-Raekwon's Shaolin Vs. Wu-Tang
is… okay. It's not as good as Only Built 4 Cuban Linx 2
, which is I think my main problem with it. That said, it starts off real strong, as seen in the slightly NSFW below, wobbles in the middle, peters out, and then comes back strong for that joint with Black Thought. The Nas track didn't impress me.
-You want to cop Frank Ocean's nostalgia,ULTRA. Here's a download link. Cover art below.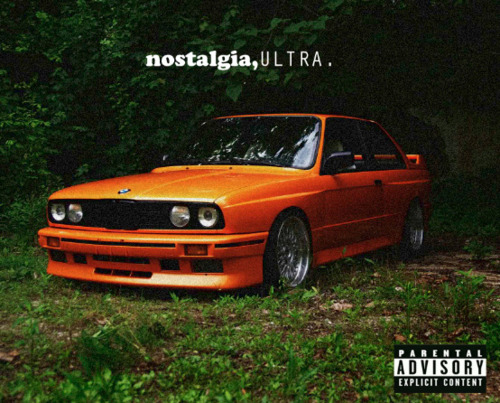 Ocean is nice, and this absurdly smooth R&B album from the Odd Future Wolf Gang Kill Them All crew sort of puts a bullet into the meme of "Oh, all they talk about is rape and murder and gaybashing, but they're
so young and talented
that I feel compelled to write a two thousand word piece on why it's okay/not okay to listen to them."
-"There Will Be Tears" is brutal, fair warning. It'll kick your legs right out from under you.

-It's like Andre 3000 said on "Aquemini." "Now, question: is every nigga with dreads for the cause? Is every nigga with golds for the fall? Naw… So don't get caught in appearance. It's Outkast, Aquemini, another Black experience."
-Something else Andre said on Aquemini:
Three in the morning, yawnin', dancin' under street lights/ We chillin' like a villain and a nigga feelin' right/ in the middle of the ghetto on the curb, but in spite/ all of the bullshit we on our back starin at the stars above/ (aww man) Talkin bout what we gonna be when we grow up/ I said what you wanna be, she said, "Alive" (hmm)/ It made me think for a minute, then looked in her eyes/ I coulda died, time went on, I got grown/ Rhyme got strong, mind got blown, I came back home/ to find lil Sasha was gone/ Her mama said she with a nigga who be treating her wrong.
-I've been playing nostalgia,ULTRA and Pac Div's Mania on repeat, basically. I like Pac Div a lot, and Mania is on point. Grab the album here and the cover art rightchea: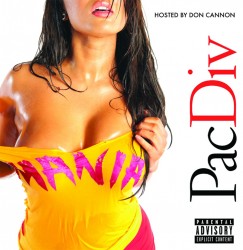 The full-size art is like 1000px square. Dunno why–250×250 is fine, isn't it? Smaller, too, which makes the mp3s smaller. Hi-def album art, I guess. Check out the back cover art on the official site.
---
blood shot in that direction, cipher
David:
Hulk 30.1, Thunderbolts 155, Uncanny X-Force #5.1, Xombi 1
Esther:
Knight and Squire
6
Tiny Titans
38 Mmmmmmaybe
Power Girl
22
Gavin:
Batman 708, Knight & Squire 6, Darkwing Duck 10, Avengers Academy 11, Deadpool MAX History Of Violence, Iron Man 2.0 2, Thunderbolts 155, Ultimate Comics Avengers vs New Ultimates 2, Uncanny X-Force 5.1