November 28th, 2007 Posted by Gavok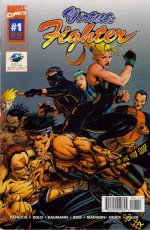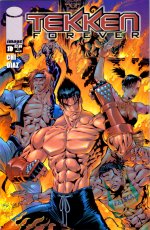 Back when I was doing reviews on the old Street Fighter and Mortal Kombat comics, I found that there were comics made based on other one-on-one fighting games, such as Virtua Fighter and Tekken. I scored these two one-shots and sat on them for a while, knowing that they would be best saved for a rainy day. More than that, something seemed off about reviewing these two alone. I needed a third comic to round it out. One day, when reading about Street Fighter on Wikipedia, fate smacked me in the face.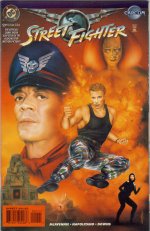 Being a D-level comic blogger like I am, rather than turn away from this ink-and-paper demon spawn, I reacted with, "I need to own this!" I don't know. Since this 4th Letter gig, I've been finding myself going out of my way just to read pure shit. Chris Eckert has the market cornered in making fun of Countdown, and yet I find myself wanting in. That's why when the series finishes, I plan on reading the entire series in one go backwards Memento style! You know. For science. I might even try reading World War Hulk: Gamma Corps with all the text whited out. It might be interesting in a self-torturing way.
Let's get DC's Street Fighter: The Movie out of the way, because believe it or not, it's going to get worse. A lot has been said about the movie. There are a ton of things wrong with it, but the most complained-about part is the complete lack of loyalty to the source.
The game's story: A serious martial artist and his less-serious best friend go around the world to train and build themselves up as the greatest street fighters. The more serious one is hunted down by a megalomaniac out to exploit the martial artist's physical potential. This villain is targeted by many, including an American military man and a Chinese Interpol agent who each harbor a personal vendetta. This all comes to a head in a one-on-one fighting tournament, featuring great fighters from all over the globe.
The movie's story: A megalomaniac takes a bunch of hostages in Thailand. A military man with an American tattoo, despite having a foreign accent thicker than Double Stuffed Oreos, leads a world-wide military team into Thailand to save the day. Two weasely weapon salesmen, a Chinese news reporter and her camera men (who happen to be a sumo wrestler and a boxer) get involved. Plus a scientist turns one of the main character's friends into a green monster.