January 7th, 2013 by
david brothers
| Tags:
Colored Commentary
,
django unchained
,
quentin tarantino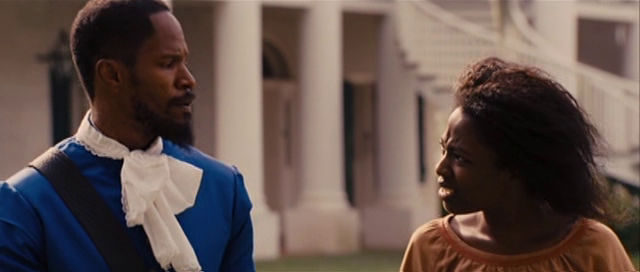 Partway through Django Unchained, Leonardo DiCaprio's Calvin J Candie, ruler of the Candyland, talks about exceptional niggers. His idea is that one in every ten thousand negroes is exceptional, a near-equal to the white man. The other nine thousand, nine hundred and ninety-nine are unexceptional, but possessed of an enormous capability for loyalty and servitude. Thus, it follows that the natural state of the black race is beneath the white man's boot, as the white man is possessed of mental capabilities that the black man simply cannot possess… but everyone one in ten thousand niggers is good enough to go toe-to-toe.
My first thought while Candie was explaining his theory was of WEB Du Bois's "Talented Tenth." The talented tenth would come into existence for the purpose of "developing the Best of this race that they may guide the Mass away from the contamination and death of the Worst, in their own and other races." I'm of two minds about it. I like Du Bois's emphasis on education, but I'm wary of anything that sets up one class as being meant to guide another class. I'd vastly prefer something egalitarian and logistically difficult, like making sure that everyone stands on equal ground.
Candie and Du Bois both accept that the black man is not on par with the white man. In Du Bois's case, it was because the black American had been consistently terrorized and held back from being treated as equal. Du Bois wanted the best of us to help out the rest of us. In Candie's case, it was because the black man was, by default, inferior, and any exceptional nigger was just that: an exception. The rest of 'em weren't worth much of nothing, past what you paid for 'em.
I'm fascinated by how the oppressed interacts with the oppressor. Appeasement and collaboration, right? Why would you side with someone who hates you? Why would you adopt their mannerisms and culture? Usually, the answer to that question is "to stay alive by blending in." Sometimes, though, you can adopt their methods in order to fight back against them. For example, Malcolm X found wisdom while in prison. Huey Newton learned how to read after escaping high school. Even your boy Tupac Shakur was well-read, and that allowed him to be politically active. Knowledge is power, baby.
Here's Talib Kweli, off David Banner's "Ridin":
When they call you nigger,
They scared of you, they fearin' you
So, actually, if crackers gon' be fearing niggers
Then that's what the fuck I have to be
Kweli's idea here is to weaponize the idea of a nigger. They're already afraid of you, so why not take that next step and demand your respect? Buy into their nonsense and use it against them.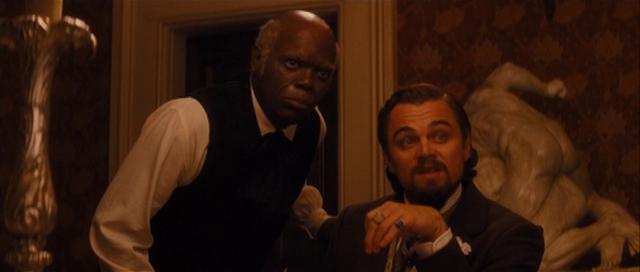 Stephen, played by an engaged and lively Samuel L Jackson, weaponized it in the other direction. Rather than using their prejudices to fight back against them, Stephen uses those prejudices to make a power grab of his own. He's the prototypical house nigger, the type of guy Malcolm warned you about. He's conniving and scummy, and his position as the head nigger in charge means that he gets to boss around everyone else. When it comes to dealing with whites, he'll shuck, jive, step, fetch, and yes massa no massa of course massa his way into being a valued member of the family. But not a real member, of course — just a fixture, someone reliable. He's still property, but he just gets to live a little nicer than everybody else.
Stephen gets a lot of leeway thanks to his sellout status. He gets to smart off to his master — up to a point, at least, don't forget "Keep it funny, Stephen" — and he gets to tell other slaves what to do. He plays up his shuckin and jiving when in polite company to show just how fantastic his master is, but when they're alone, Candie gives Stephen even more leeway. Candie understands that having an inside man, a different thinker, on his side is much more valuable than ruling by fear alone. Stephen is happy to be who he is, because being the other thing is out of the question.
I like Django's route a lot better. When the time comes for people to die in Django Unchained, they die bloody. Jamie Foxx's Django explicitly takes on the role of that exceptional nigger. At one point, Candie wonders why blacks don't just rise up and take over. Django is the answer to his sarcastic and absurd question. Django uses Candie's philosophy against him. He puts an end to their reign. It's one plantation in one territory, not a revolution… but he gives them what they deserve and sends them on their way.
M. Calvin J Candie seems himself as a homemade intellectual, a deep-thinking type of guy with a firm grasp on the future. He's a liar. He's a lie, like the south is a lie, and like America is a lie.
Similar Posts: