July 19th, 2011 by
david brothers
| Tags:
frank miller
,
jim lee
Batman is a painful idea, one that is fueled in large part by tragedy.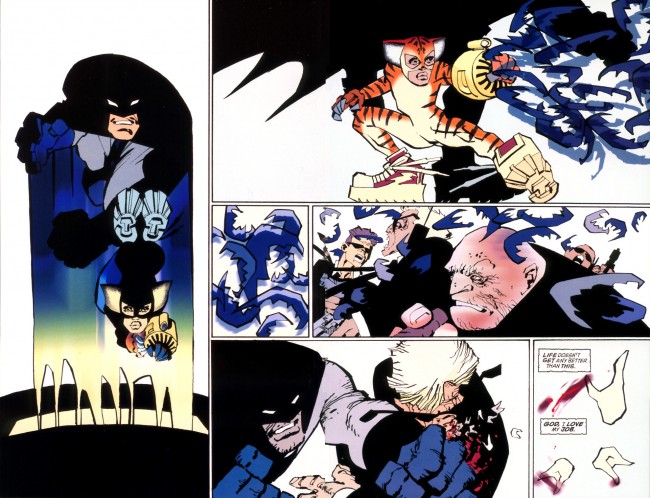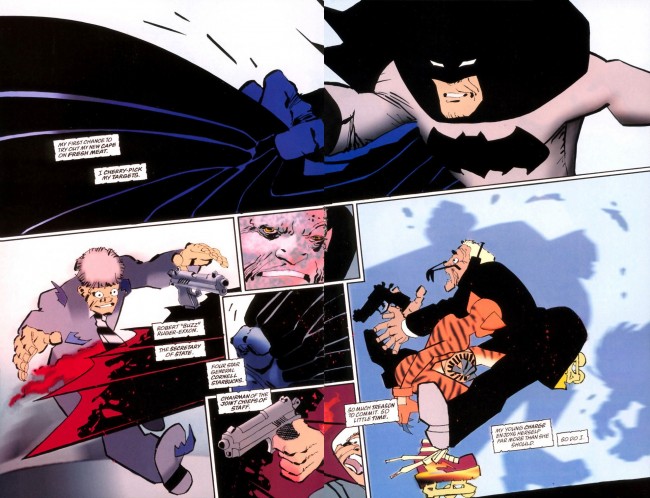 At the same time, Batman is a healing idea for Bruce Wayne. One thing Miller does that not enough Batman writers do is make it clear and plain that Bruce Wayne loves being Batman. There's this line I latched onto the first time I read Dark Knight Strikes Again. Batman crashes a flying Batmobile into Lex Luthor's tower, beats up his goons, slashes a Z across Luthor's face, and then skates, Catgirl in tow. I mean, he demolishes everyone. It's thrilling. When he's done, he leans back in the Batmobile, kicks his feet up on the dash, and says, "Striking terror. Best part of the job."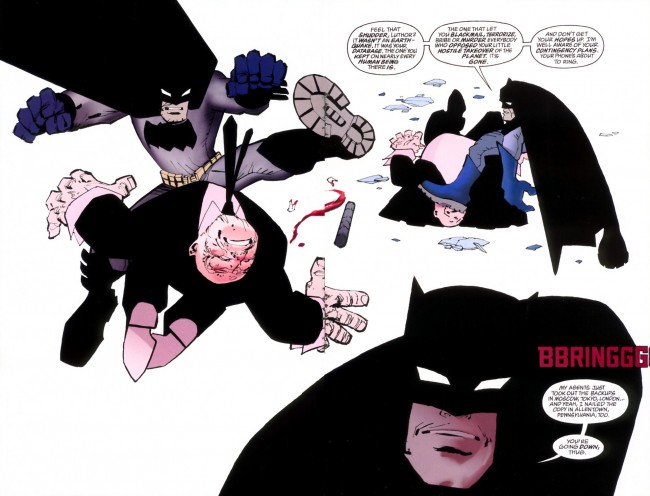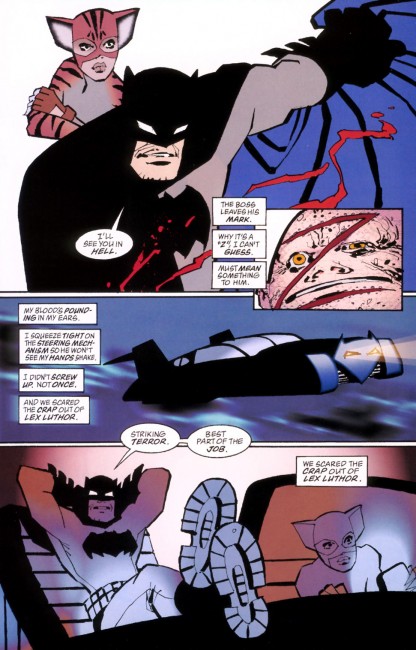 Something in my head just clicked when I read that, and I just knew that this is how Batman has to be. Batman has to enjoy what he does on a very personal and deep-seated level. Otherwise, it's just a job, isn't it? He clocks in, clocks out, and goes home. Enjoying the "being Batman" parts of being Batman is vital to his character, otherwise he's mired in misery for no good reason. Even Daredevil loved dancing across the rooftops of Hell's Kitchen.
If Bruce Wayne enjoys being Batman, then being Batman is more than just a gig or revenge. It's a calling. It's something that he's built to do, something that exercises that little part of your brain that makes you good at things. He's into being Batman like an artist is into drawing or a writer into writing. He sits down at the crime-fighting equivalent of a drawing board and slips into the zone. If you have the opportunity to do things you like as part of your daily life, you know exactly what I'm talking about. Everything else drops away, and it's just you and your painting, or essay, or video, or whatever. Things make sense.
Or, it's something like Rakim said: "I start to think and then I sink/ Into the paper like I was ink/ When I'm writing I'm trapped in between the lines/ I escape when I finish the rhyme/ I got soul."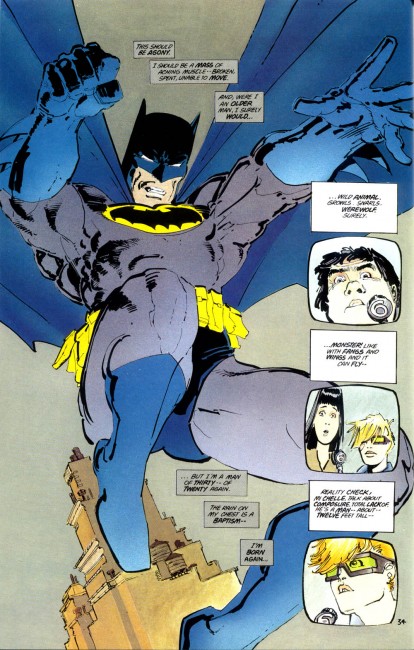 That's what being Batman is, and has to be, for Bruce Wayne. It's got to be a calling, something that energizes him and gives him the strength to go on. In Dark Knight Returns, after jettisoning the Bat, his life is empty and he bounces from whim to whim. He rediscovers the Batman and the result is striking. "This should be agony. I should be a mass of aching muscle–broken, spent, unable to move. And, were I an older man, I surely would… But I'm a man of thirty — of twenty again. The rain on my chest is a baptism–I'm born again."
The reference to baptisms and being born again is on the nose, innit? This is Batman's religion. This is how he gets closer to God. And the bold on "born" but not again is suggestive, too–this is how Batman begins. That thrill that dances up his spine, that impossible stamina, and that feeling of being a man made god. It's undeniable. It's seductive.
Dial it back twenty-some years to All-Star Batman and Robin the Boy Wonder, and there's this: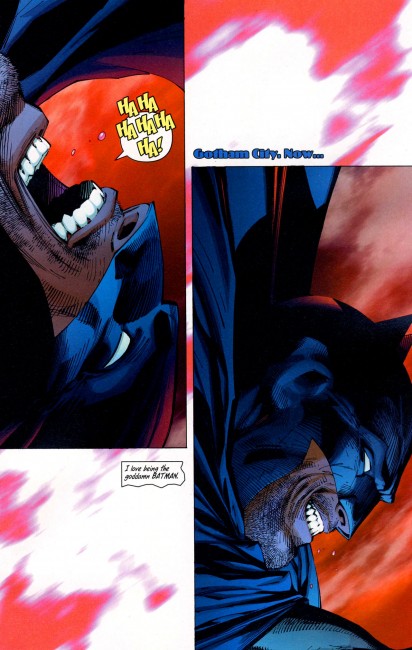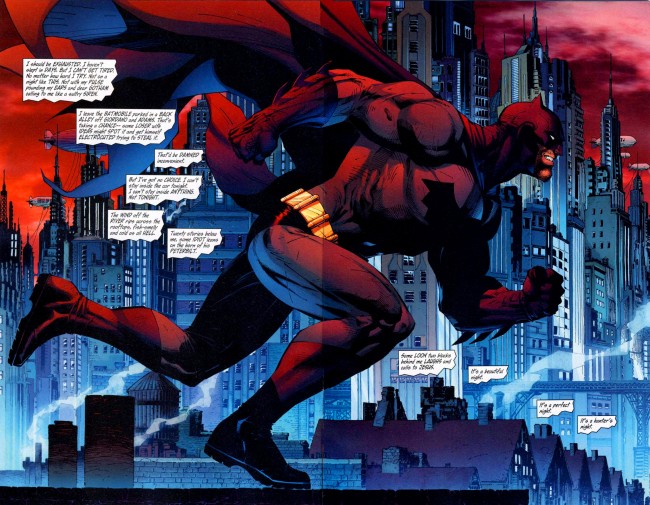 You get the feeling that Wayne just wants to get out there and DO something. His captions scream out how empowering and rehabilitative Batman is. "I should be exhausted. I haven't slept in days. But I can't get tired. No matter how hard I try. Not with this pulse pounding my ears and dear Gotham calling to me like a sultry siren."
That sounds pretty incredible, doesn't it? Positively life-affirming As if Batman were a medicine, or steroid, that's keeping him going. It reads like it revitalized his life and gave him an irresistible reason for being. Everything in the city, from the cold and nasty wind off the river to the jerks laying on the horn at asleep o'clock is perfect. It builds up to Batman's ultimate playground, the perfect location for a creature like him. He's where he belongs. He's in his zone. Batman be to crime-fighting what key be to lock.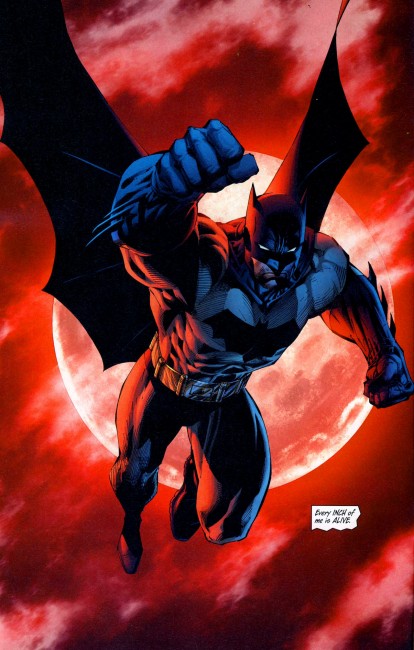 I can't help but love that in a major way. I don't think Batman should be a happy go lucky type of guy, but he'd definitely have a devil may care grin and take a certain amount of pleasure in doing what he does. He might not show it, but it has to be there. He has to like it. Being Batman has to be fulfilling and something he can enjoy. The enjoyment may ebb and flow, but striking terror has to always, always be the best part of the job.
There's this really good sequence in Charlie Huston and David Finch's Moon Knight that sort of relates. It starts with Moon Knight staring down Taskmaster before taking him apart in a major way ("Yes, kill me. See if that works this time." and Taskmaster crumbles in the wind), getting what he wants, and vanishing into the night. As he leaves, he's thinking, "I get what I want. Glories. I get glories. Glories such as these."
Moon Knight is geared more toward reveling in violence and sado-masochism than Batman is, and that's how he honors the god that gives him his gimmick and/or powers. He puts the boot in, and Khonshu is pleased. Moon Knight's glories aren't Batman's, but Batman, every single night, ends up with glories. Being Batman shows him a side of life that most people never see, where the city speaks to you with the familiarity of a lover, your life and death are always near at hand, and hand-in-hand, and everything is your playground.
Later in the series, Batman and Robin have to get somewhere in a hurry. Batman, indulges himself a bit and says, "We hitch a ride." This is the ride: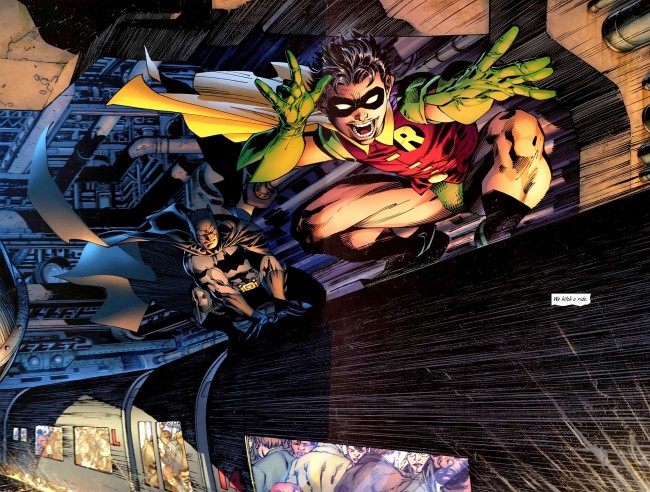 Normal people don't get to do that. This is what being Batman is all about. You see the city as an entity, you learn the secret paths and language, and most of all, you get to be exactly where you want to be.
"Every inch of me is alive."
next: i rushed it. i blew it.
Similar Posts: