May 10th, 2011 by
david brothers
| Tags:
daas
,
it ain't no more to it
,
wu-tang clan
The Damon Albarn Appreciation Society is an ongoing series of observations, conversations, and thoughts about music. Here's the sixth. Chris Sims wanted me to write about Wu-Tang Clan's Enter The Wu-Tang
in fifteen minutes. With the exception of the quoted bit from my tumblr (which was relevant, and which I still like), I kept to the rules. I started with "Bring Da Ruckus" because it seemed appropriate. As I finished, "Wu-Tang: 7th Chamber" was winding down and "Can It All Be So Simple" was spinning up. Maybe this was 16 minutes or so? Who knows/cares, I was in the middle of a thought I wanted to finish.
Minutes from previous meetings of the Society: The Beatles – "Eleanor Rigby", Tupac – Makaveli, Blur – 13 (with Graeme McMillan), Blur – Think Tank (with Graeme McMillan), Black Thought x Rakim: "Hip-Hop, you the love of my life"
---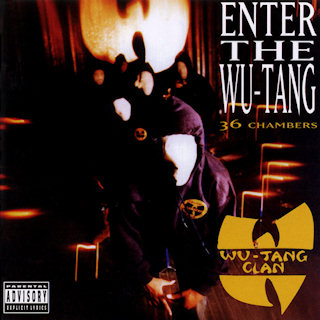 So when the Wu were chanting "Tiger Style!" on "Wu-Tang Clan Ain't Nothin To Fuck With," it wasn't just because it sounds good when you growl it. It's because tigers were the top dog of all animals. Tiger Style, from what I've read, is all about offense and ending battles quickly, rather than evasion and misdirection. It's direct, to the point, and deadly.

So "Tiger Style!" becomes a war chant and a warning. "The kings are here, everyone else fall back or catch a bad one."
I love 36 Chambers.
It's rough, and I think everyone that loves it recognizes that fact. Method Man hadn't quite grown into his role as the Wu's chief crossover king. Ghostface was just a regular rapper, with barely a hint of the style that made Supreme Clientele top 5. Rae wasn't a kingpin yet, and RZA was just a voice, not a guru. GZA and Deck are more or less fully-formed here, with some incredible verses that stick to your ribs. U-God and Masta Killa are okay, but Ol Dirty Bastard was already settled into his role. It's a matter of picking where to start.
Start with the first three tracks. "Bring Da Ruckus" starts off the album and sets the tone. "Ghostface! Catch the blast of a hype verse!" The next joint, "Shame on a Nigga," begins, "Ol' Dirty bastard, live and uncut/ Style's unbreakable, shatterproof." GZA on "Clan in da Front": "The Wu is comin' thru, the outcome is critical/ Fuckin' wit my style, is sort of like a Miracle."
This is what the Wu is: personality and skill. "This is me, and I'm about to rock you." Rap is intensely personality driven, but the Wu managed to stand out even amongst their larger than life competition. Meth was playful and prone to smoking wet blunts. GZA is the scientist. ODB is wild, self-sabotage as lifestyle choice. RZA is the planner. Rae is Scarface, while Ghost is his abstract partner in crime. Every member has a role, and they all play it to the hilt.
All of that together is alchemical. The Wu is greater than the sum of its parts, and there's still something magical about every time they get together. You want it to feel like this raw, poorly mastered release that got your blood pumping back in the day. This is Timberlands and camo jackets rap, almost actively anti-radio in sound and with a weird aesthetic. Kung fu movies? Where'd that come from?
But 36 Chambers, in spite of, or because of, its warts, is incredibly listenable. Every single song hits, and the album builds in emotional breaks between that raw rap. "Can It All Be So Simple" comes right after "7th Chamber," and "TEARZ" comes right off the high-energy "Protect Ya Neck." These are pauses for breath, something you have to do after chanting "WU! WU! WU! WU!" It brings you back down to earth, CNN of the streets style, and then you get built right back up.
"Da Mystery of Chessboxin" coming after "Can It Be" is incredible, because it's just raw lyricism on display. The opening skit is pointed yet again, and sets up Toad Style as the style on display in the song. And everyone goes all the way in. U-God drops his first classic verse with his trademark growl ("Raw like cocaine straight from Bolivia" is hard body), Deck is typically clever, and while Rae isn't using that juggernaut flow he perfected later, this shout-to-my-dawgs style is still compelling. And then Dirty comes in and crushes the building, coloring outside the lines and elevating the whole affair. Tony Starks brings some ultraviolence, and then Masta Killa's first bar is insane.
The whole album–you can pull any song apart and look at its guts and be even more impressed. It sounds dirty and dusty, like some cats just got together with an old MPC and a rickety record player and put together an LP, but when you really listen to this album? When you look at the scaffolding that's hidden behind the poorly mixed vocals, poorly acted skits ("fuck you mean is he fuckin dead"), random censoring, and scratchy kung fu samples?
It's nigh-flawless. This whole thing, all 36 Chambers, they were constructed. It's amazingly well put together.
The Wu's a huge influence on my writing.
Similar Posts: