April 20th, 2011 Posted by guest article
Guest article series by Gabriel "TheJoker138″ Coleman.
Let's get right into it again, because this is a short, boring episode where almost nothing of import happens. First off, there's totally an on-screen title card again, that is once again in a totally different style than all of them before it, in a different spot than previous ones (they were all at the beginning, this is after the opening teaser) and is wrong: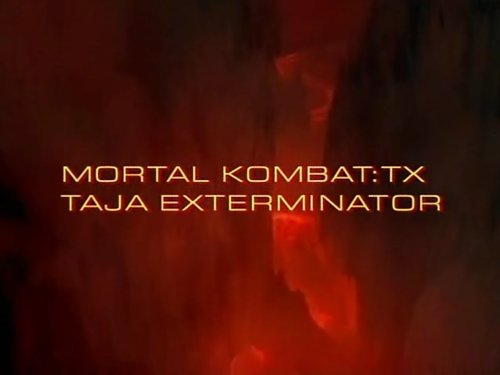 I showed you the last one cause I thought it was weird. I'm showing you this one because it's the most interesting thing in the whole episode.
Anyway, we start off with Taja in the marketplace, buying some stuff when she sees a man that she believes to be her father. She follows him into an alley and they embrace, but a portal to Outworld opens behind him and he drags her through. On the other side, her father vanishes and Not Jade is there waiting for them. Shang enters just as Taja and Not Jade are about to get into a scuffle and stops it from happening. His plan is to use Taja as bait to lure Kung Lao in and then… well, you know what he wants to do after that.
Taja, always the skeptic, still doesn't even believe Outworld exists, which at this point is more stupid and stubborn than anything with all they've seen and faced. She'll believe in guys made of oil, but not alternate dimensions that one of her best friends says he's been to. She also doesn't believe that it was really her father, just some trick that Shang was playing. In a twist, it appears it wasn't just him morphing and that her father really is in the mines as a prisoner. Taja escapes from Not Jade's grasp and runs off to try and find him. Shang tells another prisoner who is working for him to go get her and as long as he doesn't kill her, he can do whatever he likes when he catches up.
The next morning at the training post, Kung Lao wakes up and joins Siro in the kitchen. As they're bickering with one another about tea, they hear a strange sound outside and go to investigate. It's a vision of Taja speaking in Shang Tsung's voice, telling them that she's being held prisoner and giving them a location that a portal will open that night. They're told if they want to see her alive again, it would be wise of Kung to go through said portal.